Unlike movies, in real-life combat situations, carrying one or several extra-loaded magazines can prove to be extremely helpful. While a law enforcement officer or soldier can carry extra mags openly with dedicated gear designed for holding them. Civilians using their handguns for CCW or EDC will have to look out for magazine pouches that suit their specific needs and situations.
Choosing a magazine pouch is not a very trivial matter. That is because when the need arises, quick and prompt access to a magazine is essential. Let us start with a distant view and gradually close in upon the different facets of magazine pouches.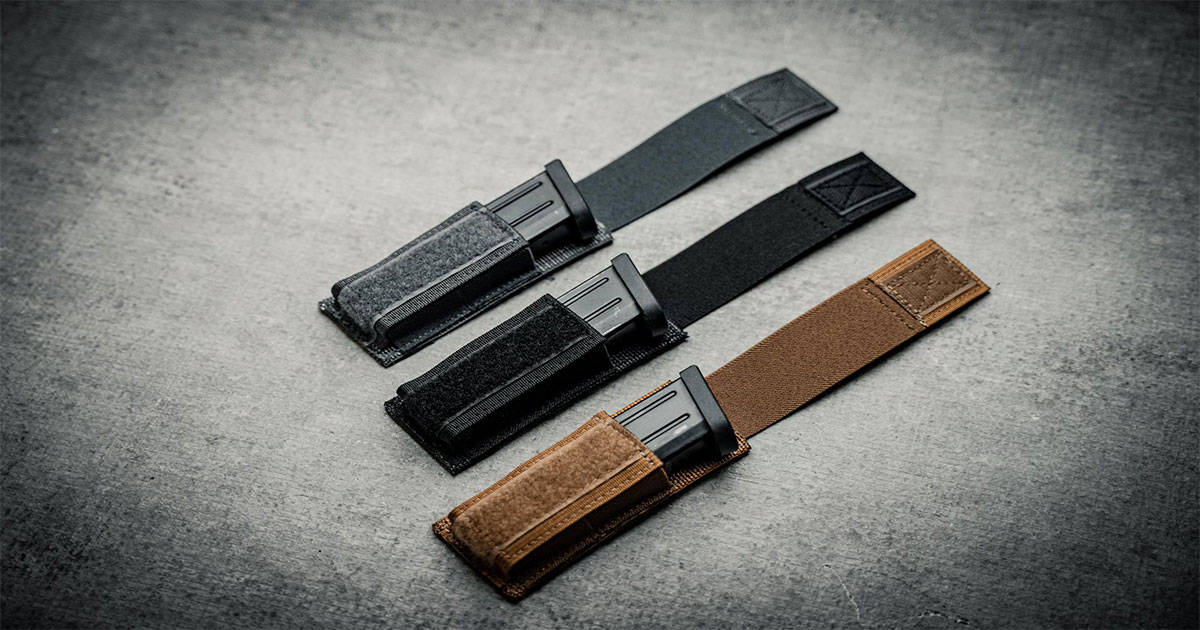 What Is a Magazine Pouch?
As the name itself suggests, a magazine pouch is a device used to carry extra magazines. Also known as magazine pouches, these are essential accessories for people involved in active duty jobs like policing, federal, state security agencies, or the military.
Some holsters come with an attached mag pouch for carrying a spare mag. Magazine pouches can come in a variety of shapes and sizes and the most common orientations are vertical and horizontal. However, some magazine pouches can also allow you to adjust the cant angle to suit your preferences.
Belt vs Chest Mag Pouch?
You might have come across a variety of mag pouch designs. Especially those chest rigs that soldiers use to carry extra rifle magazines. While mag pouches can be carried at the chest, waist, thigh, or ankle, this guide will specifically talk about mag pouches for belts.
Chest rigs for carrying extra magazines are suitable for combat uses or where you can open-carry firearms without any restrictions. These rigs are also useful when you have to carry a lot of ammunition in an easy-to-access manner.
On the positive side, belt magazine pouches offer better concealment and are more suitable for civilian applications.
Factors to Consider When Choosing a Belt Magazine Pouch
There are a few points you should keep an eye out for when choosing a belt mag pouch. These can either be in line with your personal preferences or needs.
Belt Loop or Belt Clip
The mounting mechanism is the first thing to look out for when choosing a magazine pouch. Traditionally waist mag pouches used to have a belt loop just like pancake holsters, where the belt is slid through the loop and worn around.
While this offers great stability even under rigorous activities like running, the adjustability of the pouch is not instant and can be a bit tricky. The other mechanism is a belt clip that snaps onto the belt. These clip-based pouches can be adjusted with ease, allow easy detachment when needed, and are significantly stable.
Single Stack or Double Stack
Handgun magazines can either be single-stack or double-stack. A single stack mag has a lower capacity and rounds are stacked on top of each other in a single file. Whereas in a double-stack magazine, the rounds are stacked in two files in a zigzag fashion giving them higher capacities.
As already evident from their designs, single-stack mags tend to be slimmer compared to double-stacks. Some mag pouches can be design-specific and can only fit a single or double-stack magazine.
A double-stack mag can fit in some single-stack pouches (if the material is suitable), but the other way around is not possible.
Universal Fit or Caliber Specific
Some mag pouches are caliber specific, which means you can carry only a specific caliber of magazines, or magazines designed for a particular firearm. On the other hand, some pouches are universal-fit by design and can be used to carry a wide range of magazines
Such pouches/holders either have an adjustable retention mechanism or they have been made using a material (like canvas) that is elastic enough to accommodate any magazine. Universal-fit mag pouches are suitable for people who carry different calibers/handguns on different occasions like on the range, EDC, duty, or anywhere else.
Material (Kydex, Nylon, Leather)
Just like holsters, a belt mag pouch will be worn around your waist. It is essential that such a pouch is very comfortable, especially as it substitutes the holster in terms of comfort. The most common materials used for designing mag pouches are Kydex, leather, cloth, nylon, and Cordura.
Each of these materials has its own unique properties with some pros and cons. For example, Kydex is very stable and is versatile in terms of retention options, but a bit noisy and may dig into your waist. Similarly, Cordura holsters are mostly universal-fit but unsuitable for tactical applications.
The material you choose will eventually depend upon your intended application and preference.
Single or Multiple Magazines
While some people insist on carrying an extra magazine, others consider it as an unnecessary extra load and an extra effort in handling the firearm. Then there are people who carry more than one spare mag for that just-in-case scenario.
Single-mag pouches are easy to handle and conceal, whereas multi-mag pouches take up more space on your waist. The material of design, retention mechanism, and proper fit really matters when choosing single or multi-fit mag pouches.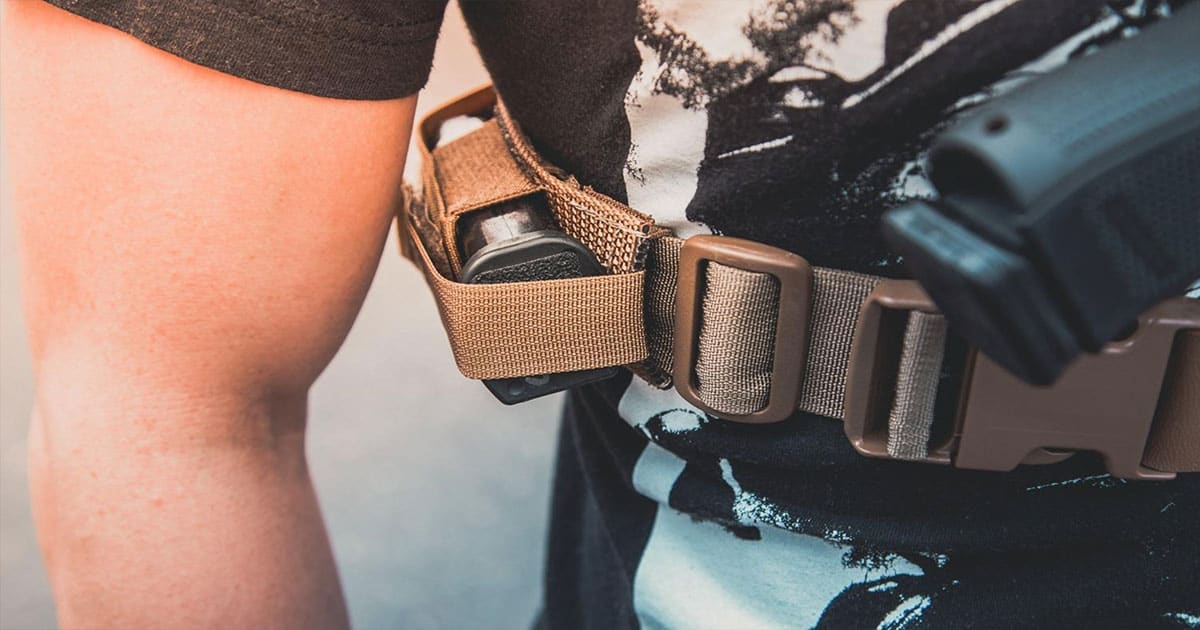 Modular or Fixed Design
A modular mag pouch does not come fixed with a belt as it can be mounted or dismounted from the paddle when needed. Additionally, the latest modular solutions like the MOLLE can also be integrated to magazine pouch designs for a more tactical approach.
Retention Mechanism
Having some kind of a retention mechanism for your mag pouch is fairly essential. Handgun mags are like small straight bars and can be lost easily if not carried properly, especially when there is a lot of movement or running involved.
Some mag pouches are made from an elastic material for a universal snug fit regardless of the mag size, whereas some pouches offer a pull cord or strap to tighten the fit. Some mag pouches also come with top flaps aided with velcro and some go a step further and offer a magnetic retention mechanism.
Apart from all these common designs, there are uncommon options like 'sticky mag holsters'. So it is essential to weigh the pros and cons of each before you choose a specific design.
Concealment
A mag pouch or magazine holster can be worn IWB (Inside the Waistband) or OWB (Outside the Waistband). If your pouch is an IWB, concealment is generally not a problem, but for OWB mag pouches/holsters you have to keep an eye out for minimal printing and maximum concealment. There is a wide range of varieties between IWB and OWB holsters, so you will never run out of options.
Horizontal or Vertical Alignment
A magazine pouch aligned horizontally for your belt may feel more like a cellphone case, which helps a bit with inconspicuous carry. Vertical carry holsters are more common and offer a quicker draw, but sometimes at the cost of comfort (while sitting) and concealment.
Choose the right belt
For a belt magazine pouch to work well, you must ensure that you choose the right belt. There are a variety of tactical belt options available out there and having a firm and comfortable belt will facilitate a clean and smooth draw. Other commonly used names for these belts are battle belts, combat belts, EDC belts, and CCW belts.
Additionally, belts designed for carrying holsters are more durable than normal belts and feature a texture that prevents the clip or paddle from getting pulled off.
Conclusion
A magazine pouch designed to be worn on the belt is the quickest and easiest method to carry spare magazine/s for non-combat uses. Such a pouch should be durable, easy to access and have a good retention mechanism to ensure the mags stay in place.