The sheath is as old as the sword, and the holster is as old as the gun. Since handguns have come into existence, the need to carry them safely and promptly has been felt. So holsters were invented to solve this issue. Ranging in design from a simple sewn bag to an ultra-fast draw design made from the best polymer components, holsters can be very versatile.
So what are holsters really made from? That is an important question to ask when your life depends upon your handgun. Or maybe it is just too good of an heirloom to get scratched. Expand your knowledge about holsters and the different materials they are made from.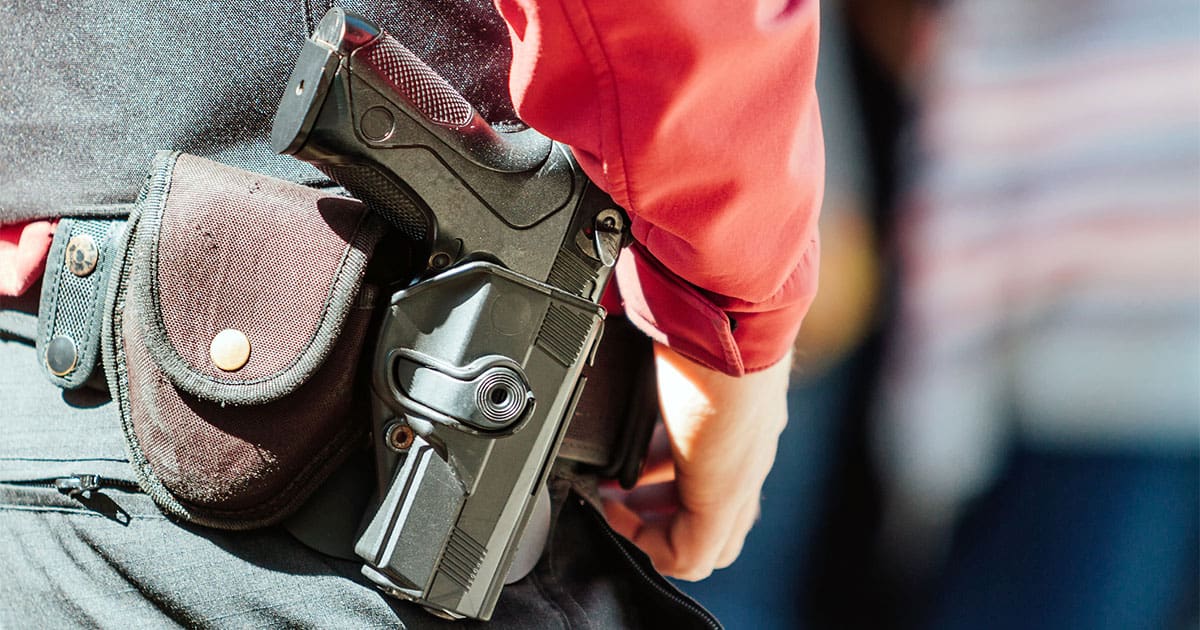 What Is a Holster?
A holster, or more aptly called a 'handgun holster' is a device that is used to carry a handgun. The main characteristics are a design that is safe to carry, does not move or wobble around, and the handgun can be easily drawn from or put inside it.
Holsters can either have a loop or a clip to cling it onto the belt. Other mechanisms include straps, elastic bands, and velcro-based designs.
While some holster designs are suitable for general use, other designs suit specific purposes such as active duty, combat, concealed carry, etc. Additionally, a holster can either be specifically designed for a specific handgun, or it may be a unified design that can accommodate any handgun big or small.
What Are Holsters Made From?
Over time, holsters evolved with the development of new materials and technology. However, the basic principle and design of a holster remain the same. Here are the most widely used materials for manufacturing holsters:
Leather
Leather has been used since the dawn of civilization. Back in the day, when lesser material options were available, the need for a durable and soft material to carry handguns was majorly served by leather.
Holsters can be made from different types of leather, but most of the time, such holsters are meticulously handcrafted. Leather holsters take some time to break-in, due to the property of this material. However, once it attains the fit these are the most classy and comfortable holsters to don.
A slight drawback is the limited availability of retention options (it's always basically just a button strap) and adjustment options. Plus, these holsters tend to be the most expensive of all due to the craftsmanship involved.
Leather holsters should be your choice when you are carrying an expensive handgun and cannot afford a small scratch on its surface.
Pros of a Leather Holster
Flexible and very comfortable on the body
Protective for the handgun's finish
Aesthetically pleasing design
Very quiet draw and re-holster
Available in a variety of customizable designs
Long-lasting if properly cared for
Great for carrying revolvers
Cons of a Leather Holster
The most expensive option among all holster materials
Can have a longer break-in period
Requires maintenance and care
Limited retention options
Kydex
Kydex is a thermoplastic that was invented in 1965. Gun enthusiasts and companies quickly inferred its use as a reliable material for making holsters. The first Kydex holsters were developed around the early 1970s.
This is the most popular holster material today, mostly due to its durability and cost factor. Kydex holsters are mostly preferred with OWB (Outside the Waistband) holster designs and are a favorite of active-duty officers, combat operatives, and competition shooters.
The main benefit of using Kydex is its lightweight and maintenance-free design. Additionally, the holster retains its shape and does not sag after drawing the weapon and it is pretty inexpensive. It is the 'plastic revolution' in holster design like the one that was brought around by Glocks in the '90s for handguns.
On the flip side, prolonged use with Kydex holsters can damage the finish of the gun. These holsters can also create unnecessary noise, which can be a hampering factor in SHTF situations.
Pros of a Kydex Holster
Durable, lightweight, and low cost
Retains shape and does not sag after the gun is drawn
Resistant to heat and water. Almost maintenance-free
Amazing retention mechanisms (SERPA, posi-lock)
Allows single-handed draw and re-holster
Great for combat and defense situations
Consistent draw and full grip access
Cons of a Kydex Holster
Can cause scratches on your gun over time
Stiff design can dig in some carry positions
One size does not fit all
Boltaron
It is an alternative to Kydex. Similar in design and properties, but a tad more durable in extreme temperatures. You will not find many holsters made from this material, but it still deserves a mention.
Some big manufacturers of holsters prefer Boltaron over Kydex for its better heat resistant properties and it also does not become brittle at the ends. There is not much of a difference between these two materials for normal civilian applications like EDC (Everyday Carry), but purists have their own view.
Pros of a Boltaron Holster
High resistance against heat deformation
Lightweight and shape-retaining design
Virtually indestructible and maintenance-free
Made solely in the United States of America
Cons of a Boltaron Holster
Pricier than Kydex
Limited availability. Not very common
Fabrics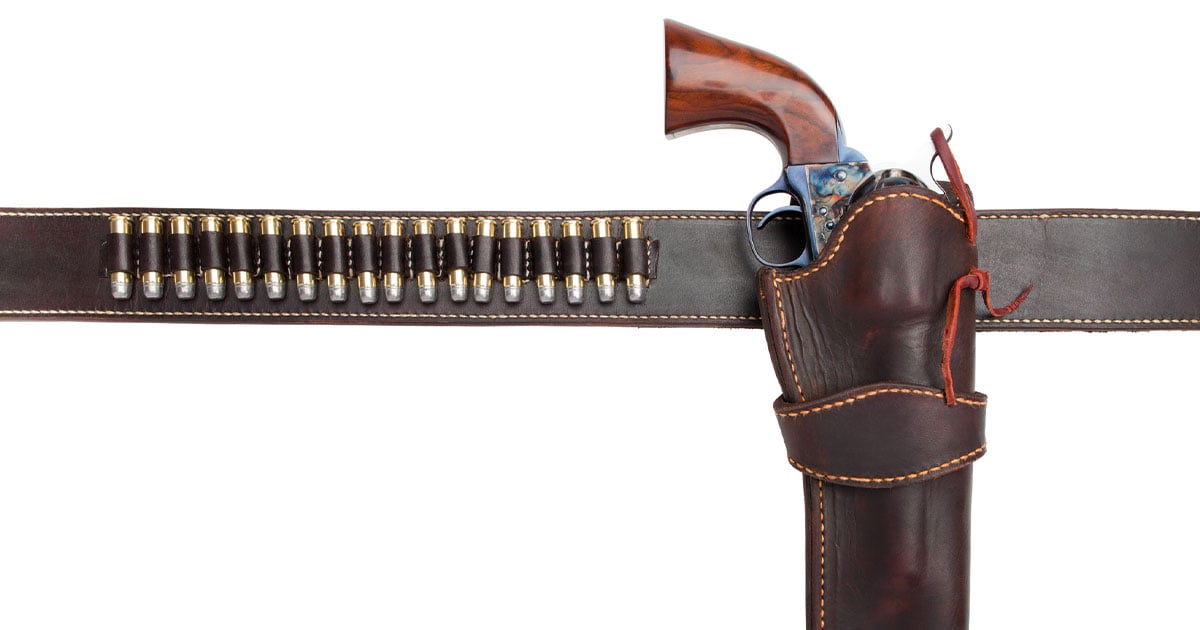 Nylon and Neoprene are extensively used in the textile and garment industry. Nylon holsters are extremely lightweight and soft on the body as well as the firearm. Not to mention their ridiculously low price. All this comes at the cost of a sloppy reholster.
Recently, neoprene has started to gain traction as a holster material. Fabric holsters are also very customizable. Plus, their unifit capabilities make them a useful choice for many people.
Holsters made from such fabrics are mostly used for EDC and concealed carry applications by civilians. This is used to carry compact or subcompact backup handguns just like with ankle holsters.
Pros of Fabric Holsters
Extremely lightweight and comfortable
Dirt cheap prices and easily customizable
Generally feature a universal fit design
Mostly feature extra pockets/carrying space
Fairly weather-resistant and easy to clean
Designs like belly band holsters are easy to handle
Cons of Fabric Holsters
Collapse upon drawing the weapon. Need double-handed operation
Do not last very long
Hybrid Holsters
Apart from all these pure holster materials, there is also a concept of hybrid holsters. These are designed by combining two materials, generally, Kydex and leather or Kydex and nylon, to create a holster that is durable, easy to draw/re-holster, and comfortable to carry. 
Such holsters generally feature a Kydex shell to hold the firearm, and a soft backing (leather or nylon) so the weapon does not dig into your belly.
Pros of Hybrid Holsters
Good mix of stability and comfort
Generally very customizable
Very concealable. Great for IWB carry
Cons of Hybrid Holsters
Donning and getting a snug fit takes some time
Requires a little more maintenance
How to Choose the Best Holster Material for Your Needs
Each holster material has its own set of pros and cons and are also suitable for a few specific situations. For example, leather holsters have great aesthetics and are very protective towards your firearm's finish. But then they lack retention options and a few other features pertinent to modern expectations.
Thermoplastic holsters like Kydex are among the most bought and used, thanks to their low price, durable build, and non-collapsible design. It is the most versatile holster material, especially for defense and combat applications. If you are into CCW or EDC, you can definitely give it a try.
Finally, nylon holsters feel like plush toys on your belly. Their unifit models like 'belly band holsters' are extremely popular for concealed carry, especially among women. If you are a big guy, you can also check out our review on the best holsters for big guys.
Conclusion
Holsters come in a variety of designs differing in materials, retention mechanism, weight, and size. The most common holster materials used today are leather, Kydex, boltaron, nylon, and neoprene. Each has its own benefits and drawbacks. Eventually, it depends upon your personal preferences and the intended application.