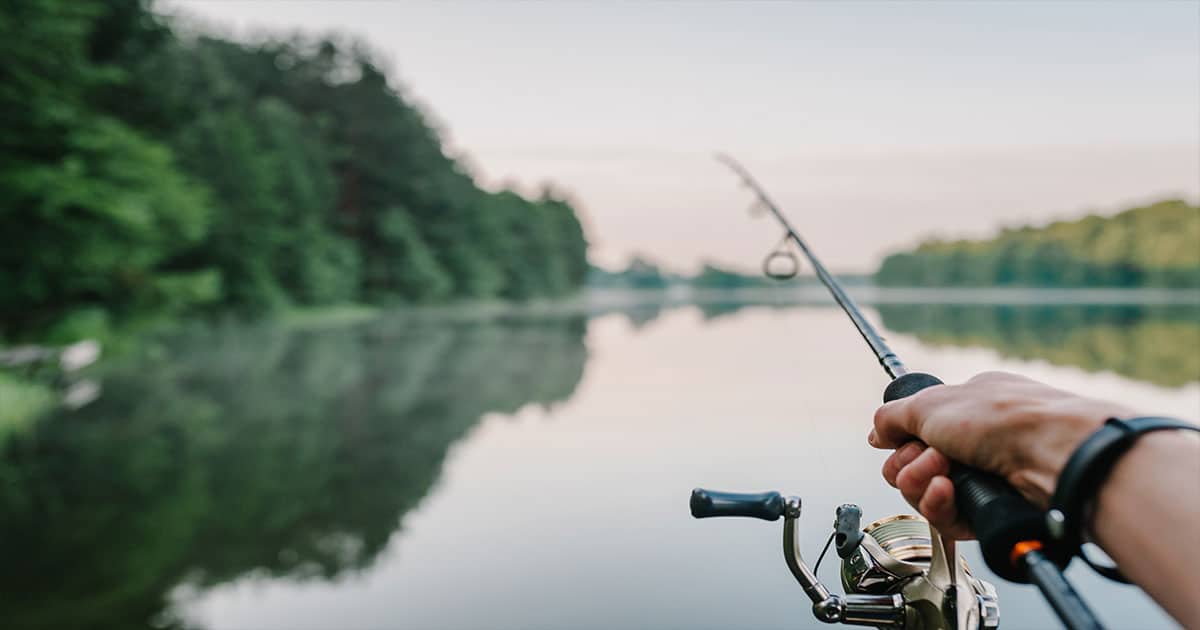 When you are casting a hook in a remote lake or river bank at the crack of dawn, you want to feel at peace and protected from the dangers that may lurk around the bend. Whether it is an armed thief or a mama bear protecting her young, having the right personal protection tools can give you peace of mind while out on the water.
Carrying a firearm can make you feel more protected from any imminent threat you may face. However, knowing how to safely carry your weapon and use it while in the great outdoors is your responsibility. Here, we cover the essentials of carrying a gun while fishing, including the best methods of carry.
Should Anglers Carry a Gun?
One of the biggest debates when it comes to carrying a gun while fishing is should you even carry one in the first place. Realistically, you have a very slim chance of running face-to-face with a dangerous wild animal or a two-legged predator that means you harm.
However, some anglers choose to rest easy knowing they have a gun on-hand, even if there is a statistically low chance of having their lives threatened on the river, stream, or lake. Choosing to carry a gun while fishing can keep you safe but requires you carry and use the weapon responsibly.
Fishing is a quintessential peaceful pastime but being out on the water, especially in the remote wilderness, you may encounter animal predators or other people who may wish you harm, although the risk is extremely low. Here are some of the threats you may find by the river or lake:
Wild animals: Wild animals such as bears, wolves, coyotes, snakes, alligators, and mountain lions can pose a threat if you run into them on your way to your fishing spot or around camp. While small handguns cannot stand up to larger mammals, they can be a last line of defense if you absolutely need it. Bears, in particular, also like to fish, so you may be sharing the same stream when you are spin or fly fishing out in bear country. If you caught a good amount of fish and you are out camping for several days, the smell of your fish can actually draw the attention of your wildlife neighbors.
Aggressive people: In the remote wilderness, aggressive passersby and criminal elements looking for trouble are hard to stand up against if you do not have the right self-defense. For the most part, you should not need to use your firearm against a random guy who seems creepy unless your life is being directly threatened. This can be especially dangerous if you, like many others, like to get out early in the morning before anyone is out and the fish are beginning to get active. If you are out all alone, you need the right self-defense.
Can a handgun protect you from all threats while fly fishing, hunting, backpacking, or camping out in the woods?
Sadly, not. Even the best handgun for the right situation can either malfunction or the gun owner can become flustered and not use it how they were trained. There are a lot of things that can go wrong when carrying a firearm.
For better protection while fishing, carry bear spray instead. Bear spray should be your first line of defense against any large animals and pepper spray for humans who may wish you harm on the trail or near the water. Ultimately, situational awareness is the best form of defense to evade threats and not have to use a firearm if you do not have to.
However, if you wish to carry firearms here is what you need to know, from the legality of carrying a gun while fishing to the best firearms for fishing to the best methods of carry while fishing to make your adventure comfortable and secure.
Is It Legal to Carry a Gun While Fishing?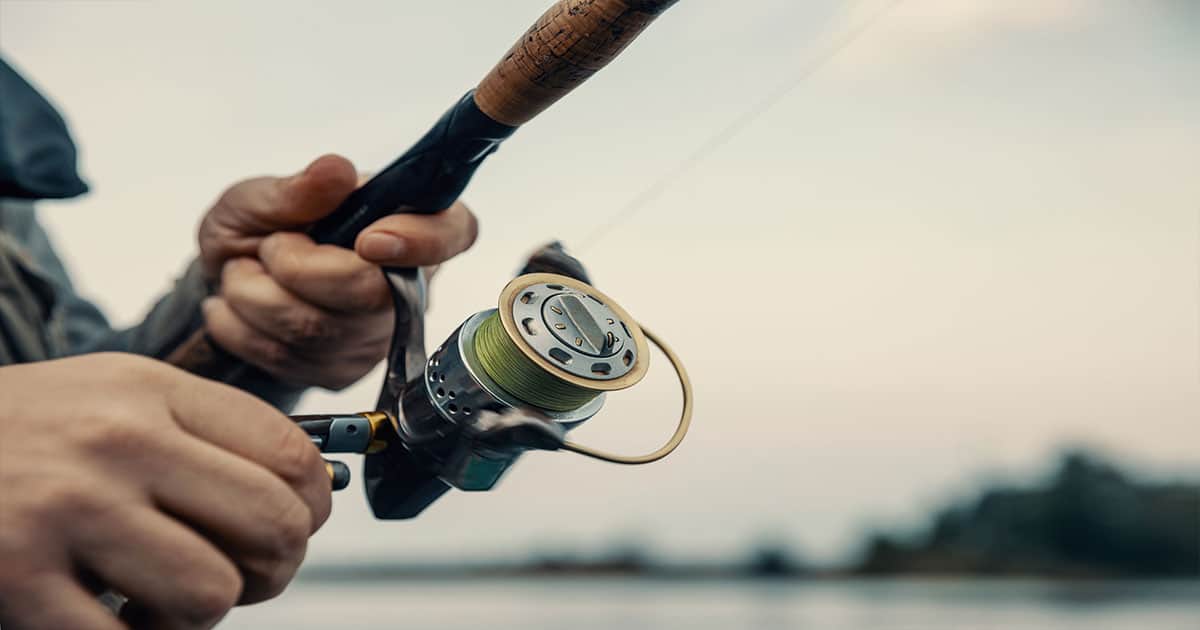 Before you head off kayak or fly fishing with your firearm, it is important to check up on your local laws and ordinances where you plan to fish. Keep in mind, every municipality and state has varying rules on carrying a weapon. Regulations may also be different for state and national parks where fishing is allowed.
While you may be able to fish and carry in some areas, you may need a concealed carry permit and a fishing license, in some cases. Ultimately, the most important factor in terms of legality depends on where you plan to fish. Contact your local fish and game agency, or local and state law enforcement to find out if fishing and carrying a gun are legal where you plan to fish.
If you are out on the water, keep in mind that laws can change. Plus, you should not face any wildlife threats or even human threats out at sea if you are fishing on a boat. If you do intend to carry, just make sure you research the applicable maritime laws on carrying a firearm.
Practice Makes Perfect
Using your handgun in a gun range is completely different than using it out while fishing. A wide range of natural elements can make carrying a gun slightly more complex. Due to this complexity, we advise you to be well acquainted with your firearms before you take it out fishing.
Getting firearm training is a non-negotiable before you take it outdoors. Knowing the basics of the anatomy of a gun, how to draw your weapon, how to safely shoot at a target, and how to holster your weapon can keep you safe from danger.
We recommend you practice carrying with fishing gear on, your chosen gun holster, and an unloaded firearm on a trial run before you actually carry a fully loaded weapon, if it is legal. Wearing your holster on a dry run can help you determine if it is comfortable and efficient.
Best Gun For Fishing
When you are out under the midday sun while wearing waders and listening to the natural soundscapes, you want a gun that can protect you when worse comes to worst while being lightweight enough to ensure your comfort all day long. Of course, you also want a gun that has enough stopping power to protect you from any four-legged or two-legged threats.
However, if your firearm is too heavy, it can put extra strain on your neck and shoulders if you are carrying it in a backpack or your hip if you are carrying the wrong kind of OWB or IWB holsters. In some cases, a different type of holster can make all the difference in comfort and retention. Ultimately, lighter is better when it comes to fishing.
There are many different types of firearms you can carry on your fishing adventure, but we recommend carrying what you normally carry, especially if it is lightweight. Generally, we recommend a compact and lightweight gun that can easily be concealed but has plenty of firepower to protect you from all kinds of predators.
How to Carry a Gun While Fishing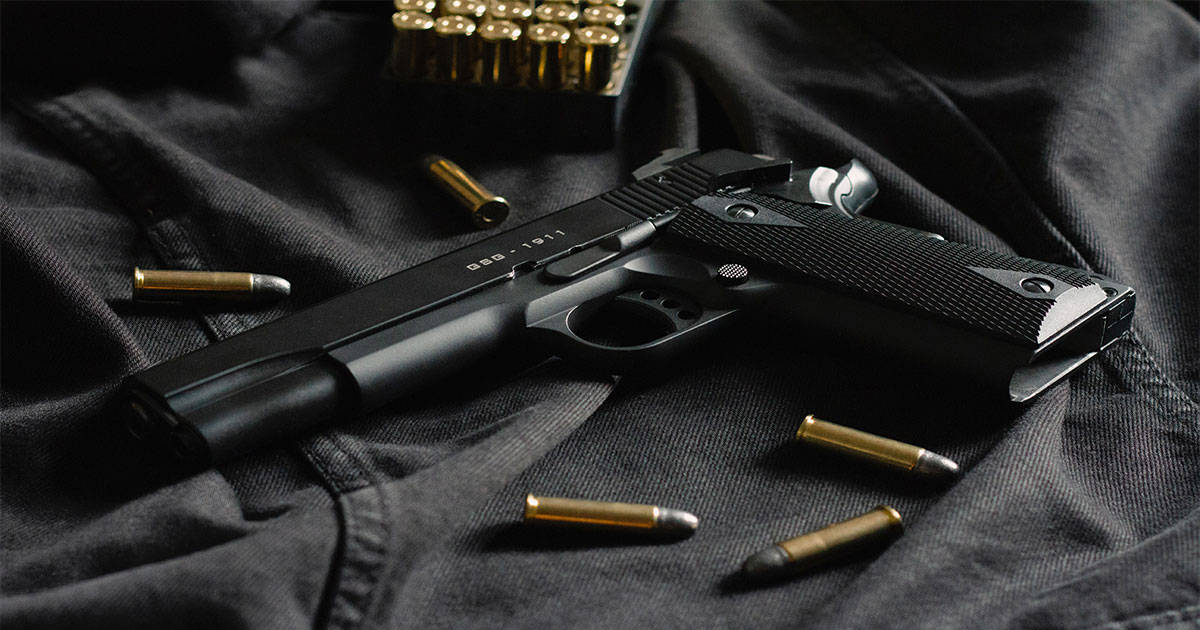 Now it is time to discuss how to properly carry a gun holster while fishing. In reality, everyone has their own preferred way of carrying their weapon. There is no one-size-fits-all option that works for everyone.
A chest holster may be widely used but for some it can not work with all their gear. Others may prefer IWB or OWB but for some this may also be uncomfortable.
Here are a few things to consider when choosing a holster to take fishing:
Access to fishing/life vest
Apparel
Fishing gear
Weatherproof
Retention
Sweat-proof
Gun type
Carrying a pistol while wearing chest waders or a life vest or fishing vest is easier than ever. No longer do you need to carry off your body. Many choose to carry their gun in a sealable pocket on their vests to not only protect it from water damage but also keep their gun on their body. However, this method does not allow you to access your gun quickly.
Now, the latest holster technology allows you to go fishing with the utmost comfort and protection.
Here are our top holster options for carrying a gun while fishing.
Pocket Carry
Carrying your firearm in your pocket, whether it be your fishing wader pocket or fishing vest pocket, is a common way to carry around a firearm on your body. If you plan to do this, we recommend investing in a reliable pocket holster to ensure that your gun remains properly secured and the trigger guard is protected. While this method can increase the time you need to draw your firearm, it can keep you safe when you are not using it.
Lockbox
If you do not like to or cannot carry on your body but still want to have the firearm close by, you can bring along a waterproof lockbox to store it. Consider getting a lockbox that can even float in water just in case it ends up spilling out of your boat and into the deep blue sea. While you will not have quick access to your gun, it will still be close enough to access it.
Keep in mind, you still need to invest in a high retention holster even if you put it inside of a safe and secure lockbox. If you are out on the water, the choppy water or the intense movement while fishing can cause the gun to move around either in the lock box or a storage compartment on your boat. Having the right holster with high retention can help your gun handle excessive movement.
OWB
If you have a fishing vest full of fly boxes, tippet spools, and other gear, certain types of chest or shoulder holsters may not work with your get-up. The straps can interfere with your fishing gear making your peaceful and relaxing fishing adventure frustrating and uncomfortable. If you will be getting waist-deep in your waders, carrying them around your hip may not be a good idea.
However, your fly fishing line can get caught up with grip and hammer If you carry over the waistband or inside the waistband with certain hammer-fired firearms. We suggest striker-fired firearms to prevent getting your line caught up with these components.
The Ronin OWB concealment holster is the perfect fishing holster for everyday carry, including when you are going fishing.
Here is why:
Versatility: Since 2011, we have been crafting the Ronin to be the most comfortable and concealable OWB holster on the market. Think of the concealment of an IWB with the design and function of an OWB. Carry this when you go fishing, hunting, hiking, backpacking, and other outdoor activities.
Concealment: Printing is not an issue with the Ronin. We use CAD to eliminate points that may print, allowing the firearm to sit as flush to the body as possible without sacrificing comfort or a quick draw. We custom-make each design to ensure the cant angles, sweat shield shape, and holster curves are perfect for your handgun. They offer impressive concealment even with a light cover garment.
Retention: When you are out in the choppy water or reeling the big one in, you need a holster that can stand up to the rugged terrain. We design custom molds that balance retention with a very elastic draw characteristic, producing an audible snap when it is securely in place.
The Sentinel OWB holster is another excellent holster for your tactical pistol and light combo. First, we start off with a .08 thickness Kydex which is hand formed against the firearm to create the perfect fit with superior retention characteristics, better draw, and increased longevity.
IWB
If concealment is what you are looking for, the IWB holster allows you to easily and securely tuck your gun under your pants showing just the grip of a gun above, which can be concealed with a shirt. However, if you have your gun strapped to your hip and you are wearing waders, you will not be able to reach it in time if you face a threat at the moment.
The Solace hybrid IWB holster is a fantastic choice for those who prefer IWB carry. Unlike traditional hybrid IWB holsters, this one cuts out the bulk and shoddy retention. We use a CAD design and inner retention tab, giving complete Kydex coverage of the trigger on both sides.
The Wraith IWB holster (available in canted and appendix configurations) is the lightweight option you need for all-day carry.
Here is why:
Reliable and secure: The FOMI clip allows for belts up to 1.75", with plenty of spring tension to secure to pants and webbing. We do not use threaded fasteners to ensure nothing ever falls out. A layer of friction tape inside of each loop maintains maximum stability and grip on your belt.
Comfortable: The Wraith IWB is meant to be worn all day while reducing the risk of printing if an appropriate cover garment is worn. We have carefully balanced sweat shield height to prevent slide wear, pinching, or jabbing. Our unique design gives you plenty of clearance so your hand can get a firm grip on your gun without getting tangled up in your pants or belt.
Shoulder Holster
The right type of shoulder holster works well with or without chest waders to conceal your weapon comfortably and effectively. Shoulder holsters can keep your handgun safely and securely tucked under your armpit for easy and quick access when you need it most.
However, certain shoulder holsters may get tangled with other straps and gear if you get a holster that is not compatible with your set-up. In this scenario, your holster can actually prevent you from drawing your weapon at a moment's notice.
The Spectre shoulder holster is the pinnacle of modern concealment. This classic and functional design is constructed with modern materials using high-tech techniques.
The benefits of carrying the Spectre on your trip down to the fishing hole include:
Ergonomic draw: The Spectre shoulder holster is designed to carry your handgun at a 30º angle for the quickest and most efficient draw from a shoulder holster unlike most shoulder holsters on the market that holster either horizontally or vertically, which can cost you precious time and the outdoors.
Impressive concealment: Kiss printing and flagging goodbye with this holster. Instead of carrying the gun perpendicular to the body, our holster carries the firearm at an angle to perfectly fit with the natural curves and muscles of the body for ultimate concealment.
Comfort: We know you like to get out early in the morning and spend all day fishing. If a hip holster is not your thing, the shoulder holster can provide you with superior comfort. Every component of this holster is attached by dual pivot points so you can easily move and reel your fishing without feeling restricted. These pivots can rotate up to 135º, making them perfect for any body type or shape. All holster parts are attached via 4-ply elastic to give you that stretch when you need to extend your body. Our unique belt attachment system can adjust to any height.
Chest Holster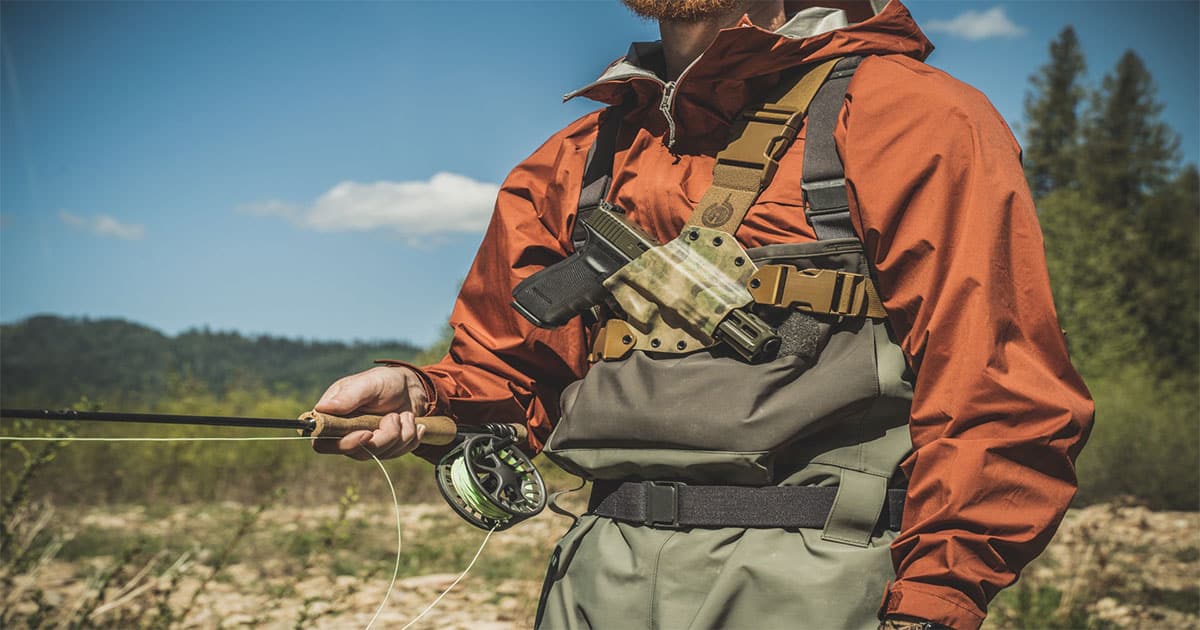 A chest holster is one of the most preferred and popular holster types for going fishing due to its ease of use and compatibility with most fishing apparel and gear. If you are wearing waders, they are an especially good holster type that will not get in the way of your gear.
The Kenai chest holster is custom-made for your gun so it can fit comfortably and securely giving you peace of mind while fishing. It is made of waterproof materials for all weather protection, no matter if you are summer fly fishing for salmon or catching winter steelhead, you know that your handgun is ready for use at the drop of a hat.
The Kenai chest holster fits comfortably under a shoulder pack and binocular harness so you can keep all your tools by your side without disruption.
The benefits of cheering a Kenai chest holster while fishing include:
Versatile: For lovers of the outdoors, you can trust this chest holster, which is perfect for hiking, backpacking, camping, fishing, and hunting, pretty much any outdoor activity. A blend of Kydex and nylon provide high retention while being lightweight and standing up to the natural elements.
Comfortable: We know you like to enjoy every minute of the day outdoors. That is why the Kenai holster was designed for all-day comfort. The buckles are strategically located to prevent getting in the way of pack straps, rifle slings, and bino slings. Best of all, the wide, flat webbing provides ultimate comfort without chafing or hot spots. Wear it low or high on the chest depending on your gear and preference. The yoke is designed to sit flat to virtually eliminate pressure points when wearing a backpack on your hike to your fishing spots.
Fast Draw: Out in the wild, predators can come in the most unexpected of times without notice. In these moments, you need to have a firearm that is within arm's reach for quick action. Carrying in the center of your chest with a chest holster allows you to carry small or larger firearms without sacrificing comfort and accessibility.
GunfightersINC: Angler-Approved
GunfightersINC designs American-made custom holsters to fit your gun like a glove. With high retention and comfort in mind, each of our holsters is angler-approved and made of a combination of Kydex, leather, and nylon for better comfort and retention.
See for yourself why GunfightersINC is known for excellence in holsters.