Staccato XC Holsters
Showing 4 results
Staccato XC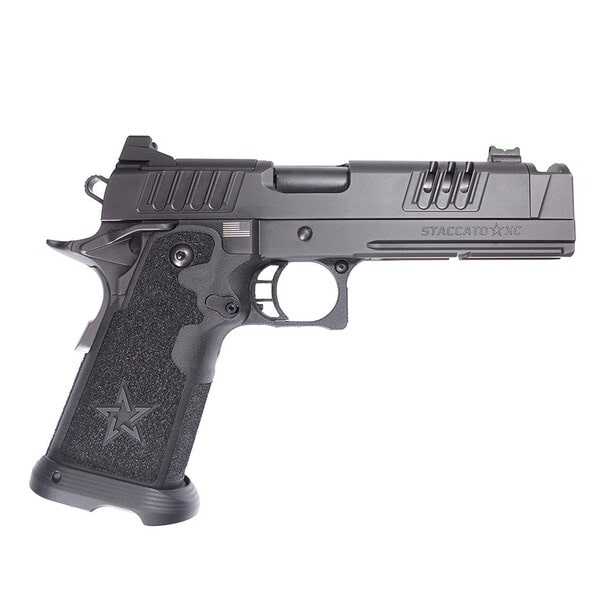 Staccato XC
Precision, Performance, and Power
Meet the Staccato XC, a marriage of high-performance shooting technology with robust construction. Designed to deliver an effortlessly precise shooting experience, this 9mm handgun is defined by its consistency, accuracy, and unrivaled reliability.
Key Features of the Staccato XC
5.0 Inch Island Comp Barrel: Provides accuracy and consistency with every shot.
FlaTec™ Technology: Ensures superior reliability and durability, vital for rigorous shooting conditions.
Integrated Compensated Barrel: Redirects propellant gas to reduce muzzle rise, enhancing control and accuracy.
Dawson Precision® 5.0″ Tool Less Recoil System: Optimizes the shooting experience with superior recoil management.
Dawson Precision® Fiber Optic Front, Tactical Dawson Precision® Optic System "Patented" Rear: Guarantees a clear sight picture for precision targeting.
2.5lbs Trigger with Ambi Safety Levers: Delivers a smooth, light trigger pull with safe handling.
GunfightersINC Holsters for the Staccato XC
GunfightersINC offers a range of top-quality holsters designed to complement the Staccato XC's superior functionality. Here's an overview:
These holsters from GunfightersINC pair seamlessly with the Staccato XC, creating an ideal combination of firearm performance and carry comfort. Find the one that suits your style and requirements today.
Discover the Staccato XC Advantage
Experience the outstanding performance and precision of the Staccato XC. It's innovative features and durable build make it an unbeatable choice for any shooter. Pair it with a GunfightersINC holster for optimal carry comfort and accessibility, and you're ready to excel in any shooting scenario. Explore our store today to learn more about the Staccato XC and find the perfect holster.