IWI Jericho Enhanced Holsters
Showing 4 results
IWI Jericho Enhanced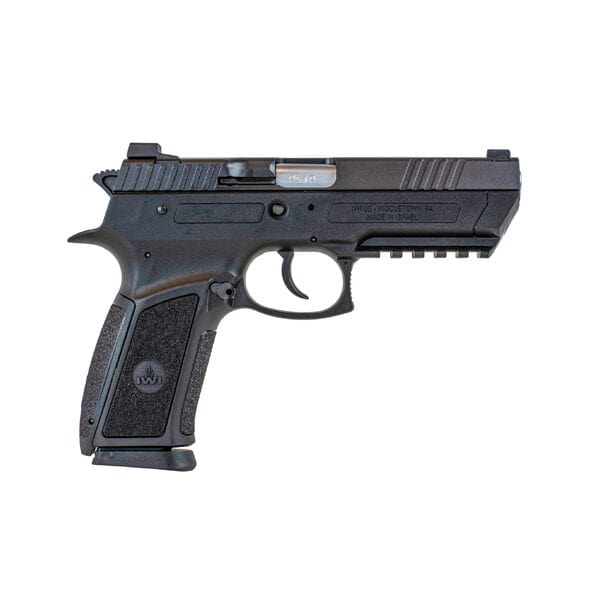 IWI Jericho Enhanced
Unleash Superior Firepower with the IWI Enhanced
The IWI Enhanced is a stellar addition to the Jericho 941 series, a line that has been the preferred choice for American shooters since its introduction in 1990. Utilizing the esteemed CZ-75 short recoil system, the IWI Enhanced showcases IWI's high standards for reliable performance, accuracy, and robust construction.
This model boasts several enhancements that bring the user a new level of comfort and adaptability. The frame, devoid of finger grooves, provides a clean, smooth handle, while adjustable backstraps allow a personalized grip. A Mil-STD 1913 Picatinny front rail is integrated for mounting accessories. New hammer and trigger profiles contribute to an improved shooting experience. The firearm also features a new thumb safety lever and Novak Sights for precision aiming.
The frame-mounted safety allows for "condition one" cocked and locked carry with single action function or hammer down double action function, providing flexibility for various shooting situations.
Here are some key specifications of the IWI Enhanced:
Action: Semi-auto
Operating System: Short Recoil
Magazine Type: Mec-Gar, Steel
Magazine Capacity: 10 Round, 17 Round
Barrel Material: Button Rifled, Nitride
Barrel Length: 4.4″
Overall Length: 8.11″
Weight: 26.8 oz
Rifling: 1:10 RH, Polygonal
Sights: Novak Sights
To maximize the utility of the IWI Enhanced, GunfightersINC offers a selection of custom holsters:
Each holster from GunfightersINC is designed to fit the specific requirements of the IWI Enhanced, reflecting the same high standards of quality, functionality, and durability.