If you are looking for the perfect home for your gun, a Kydex holster offers durability, retention, and comfort, all in a sleek and custom package. As an alternative to traditional leather gun holsters, Kydex holsters come in a range of styles that can fit any type of gun and carrying position.
Our custom Kydex holster guide dives deep into this resilient material and the factors you need to consider to find the best Kydex holster for your guns.
What is Kydex?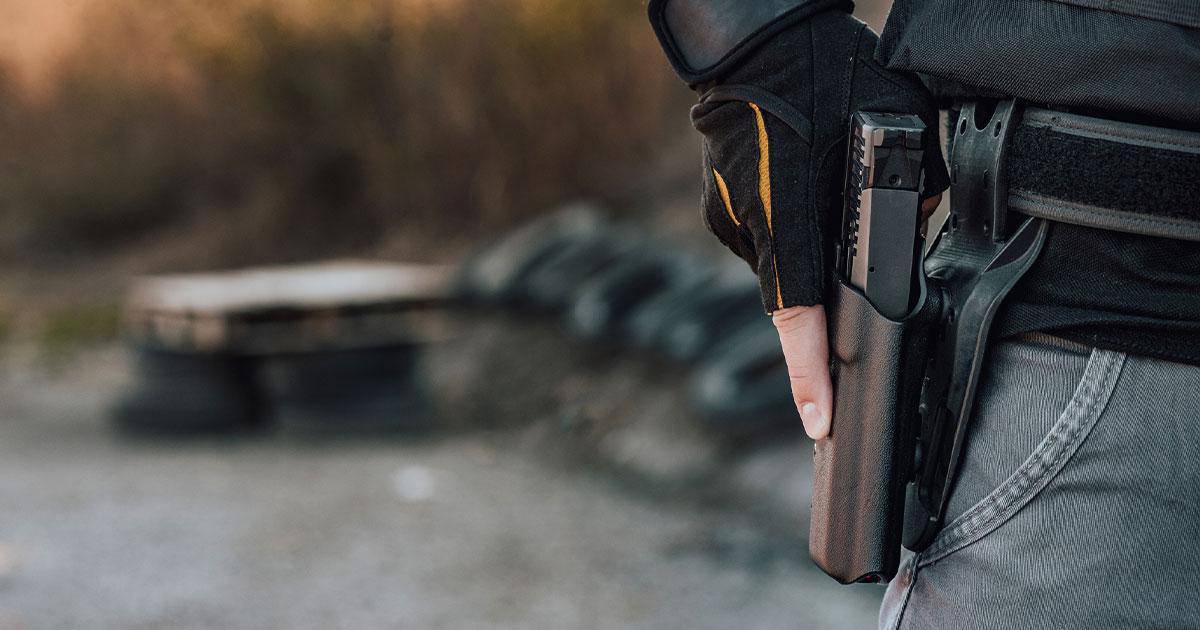 Originally intended for the aircraft interior industry, Kydex is a thermoplastic acrylic polyvinyl chloride that can be molded into a variety of shapes under high heat. Simply put, this material features the rigidity and malleability of acrylic and the durability and chemical resistance of polyvinyl chloride. It is the perfect material for every holster type.
Why Should You Choose Kydex Holsters
Kydex's unique composition makes it a favorite among gun holster manufacturers and consumers. In particular, this premium and hardy material have the following benefits:
Scratch-resistant (Rockwell hardness of 90 compared to between 25 and 32 hardness of a gun barrel)
Waterproof
Molds to any shape and will retain its form under the most extreme conditions
Easy to clean
Low maintenance
Sleek-looking
Lightweight
Weather-resistant
Retention
One of its main selling points is its excellent retention characteristics. Gun owners who own a Kydex holster love the snapping sound made when their weapon locks into place in the holster. It fits like a glove. A heavy-duty glove at that. Kydex literally forms into every crevice of your gun. Choose manufacturers that develop holsters able to keep up with your active lifestyle.
Concealment
Whether you have a concealed carry or are open carrying, Kydex can be custom designed for your favorite carry position: IWB, OWB, you name it. For concealed carry, the material's snug fit keeps your weapon as close to your body as comfortably possible. In addition, its thin but durable form reduces printing without sacrificing durability and security.
Draw
While Kydex boasts incredible retention characteristics, that does not mean your gun is completely fused to your holster when you need it most. Kydex offers seamless access from any position: chest, shoulder, IWB, and OWB. Whether you prefer the quick access from your chest holster or an IWB appendix carry, your gun is only released from its holster when needed.
Accessories
Once you create your custom holster, however, you cannot go back. Any additions such as lights, optic mounts, mag pouches, or malice clips can render your custom piece useless. Start by factoring in any gun modifications you have or plan on having. If you plan ahead, your custom order can match your specific needs.
Design
As a highly moldable material, Kydex can come in a range of textures and thicknesses and feature distinct imprinted designs. Custom holsters made with this material can be custom built to work for right or left-handed draws for any gun type. Front shell color and finish options are limited by your imagination or manufacturer availability.
Protection
Kydex holsters offer nearly impenetrable protection for your gun from your external environment. However, Kydex's extreme rigidity is a double-edged sword since it can damage your gun's surface. For peace of mind, shop from manufacturers that master the art of securing your gun through friction without causing scuffs from overuse.
Open or Concealed Carry Positions: Chest, Shoulder, IWB, and OWB
Now, having considered all the reasons why every holster should include high-quality Kydex construction, it is time to choose between a range of open and concealed carry positions depending on your lifestyle and concealment needs. From IWB to OWB and everything in between, here are just a few of the custom holster options at your disposal.
Inside the Waistband (IWB)
An IWB Kydex holster offers the ultimate concealment and quick draw you need. Carry IWB holsters anywhere around your waist. Kydex's moldable construction reduces printing so your IWB holster remains unseen.
Outside the Waistband (OWB)
OWB holsters are some of the most comfortable and easy-to-draw holsters on the market. Kydex offers unparalleled retention, even when your gun is exposed to the elements. If you are looking for concealment, the right clothing can maintain your stealth factor.
Shoulder
Most of your fictional heroes wear shoulder holsters and so should you. Even with the single layer, a Kydex shoulder holster is virtually invisible due to the material's form-fitting nature. Most importantly, it is super comfortable to wear all day long. In the event of an emergency, shoulder holsters provide fast access. What more could you want?
Chest
For the avid outdoorsman, nothing beats the comfort and dependability of chest holsters. Whether you are hiking, hunting, riding an ATV, or enjoying life's simple pleasures, chest holsters are comfortable, even with shoulder straps from your backpack. Kydex's thin frame and custom build can keep your weapon concealed if needed.
Pocket
If for whatever reason you are limited to a pocket carry, Kydex makes this carry position less obvious if you are looking for concealment. Sitting comfortably in a pocket, Kydex pocket holsters provide quicker access compared to other materials.
Supplemental Materials
Consider the additional materials being used in your holster, as well as the way they are constructed. Kydex is an excellent material used to grip your guns, but the holster strap and belt clip are made from different resilient materials.
The most common holster materials include Kydex, leather, and nylon. When shopping for a custom gun holster, choose holsters that have a mix of all three materials. Each of them serves a specific and separate function. Working as a team, they provide a comfortable, secure, and good-looking holster for your needs.
Leather: Strong and durable, this material is a classic choice for holsters. Since it can absorb moisture and degrade over time, some manufacturers use it sparingly, but wisely. For instance, a leather backer on your holster can increase security and comfort alongside Kydex.
Nylon: Nylon is an affordable and durable material used for gun holsters. For straps and harnesses, durable nylon can seamlessly connect to Kydex holsters and can be coated with waterproofing to provide protection outdoors.
It is not just about which high-quality materials you use. It is about how you use them. Consider where and how your holsters are made before making a final purchase. Shopping for American-made holsters can ensure your holster meets the exacting needs of gun owners who live in a country where the Second Amendment is proudly revered.
Custom-Made Kydex Holsters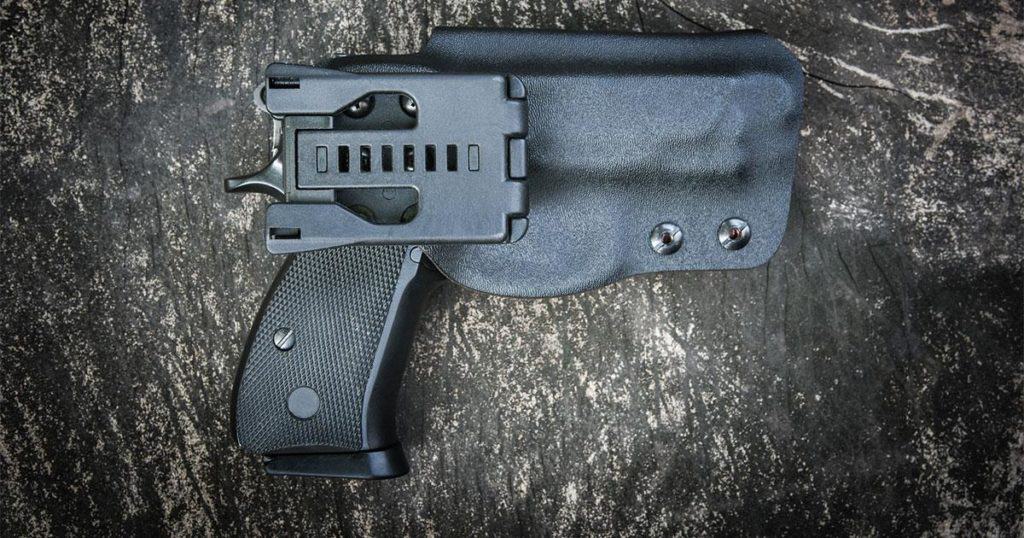 For a custom gun holster made of high-quality materials, explore GunfightersInc's selection of American-made open and concealed carry holsters. No matter how you like to carry your gun, we provide you with a holster built with your concealment or open carry needs in mind. Shop from our most popular models including the following:
You dream it, we will make it. Available in hundreds of colors, camo patterns, and finish combinations, we make every holster based on your exact specifications. Fit lights, optic mounts, and spare rounds in a holster that reflects your personality.
We stand behind all of our holsters and offer a lifetime warranty against breakage, defects, or workmanship issues. GunfightersInc can custom build a holster with the perfect fit and accessories for all your tactical needs.