SIG Sauer 1911 3.3" Holsters
Showing 3 results
SIG Sauer 1911 3.3"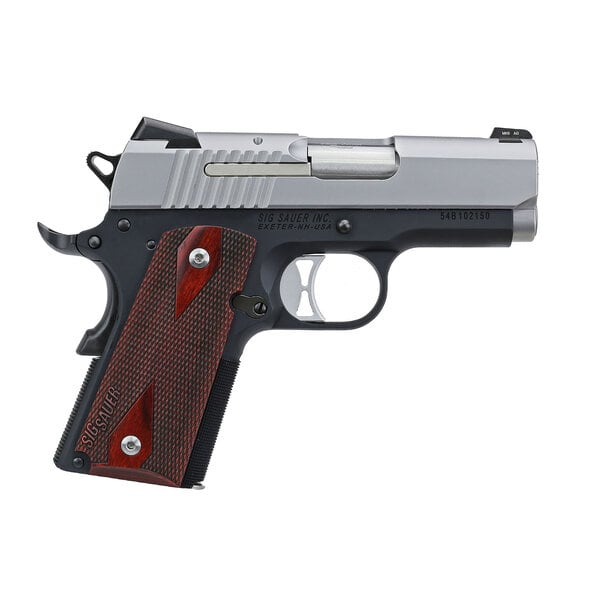 SIG Sauer 1911 3.3"
Compact and Reliable
The SIG Sauer 1911 Ultra Compact 3.3″ Stainless Pistol redefines what a compact 1911 can be. Combining the time-tested 1911 design with modern features, this SIG Sauer masterpiece offers a perfect blend of performance and reliability in a compact and stylish package.
Key Features
Black Nitron or Two-Tone Finish: The SIG Sauer 1911 Ultra Compact is available in a sleek Black Nitron or stylish two-tone finish.
Low Profile Night Sights: Improve your target acquisition in all lighting conditions.
Three Hole Speed Trigger: Allows for a crisp, clean trigger pull and rapid-fire capabilities.
Wood Grips: Adds a classic and sophisticated touch to the pistol.
Exceptional Accuracy and Reliability: This pistol has been designed with attention to detail, ensuring it's both exceptionally accurate and reliable.
GunfightersINC Holsters for the SIG Sauer 1911 3.3″
Discover the impressive accuracy and reliability of the SIG Sauer 1911 Ultra Compact 3.3″ Stainless Pistol. Get the perfect balance of classic ergonomics and modern performance with this outstanding compact pistol.