IWI Jericho 941 FS9 Mid-Size Holsters
Showing 4 results
IWI Jericho 941 FS9 Mid-Size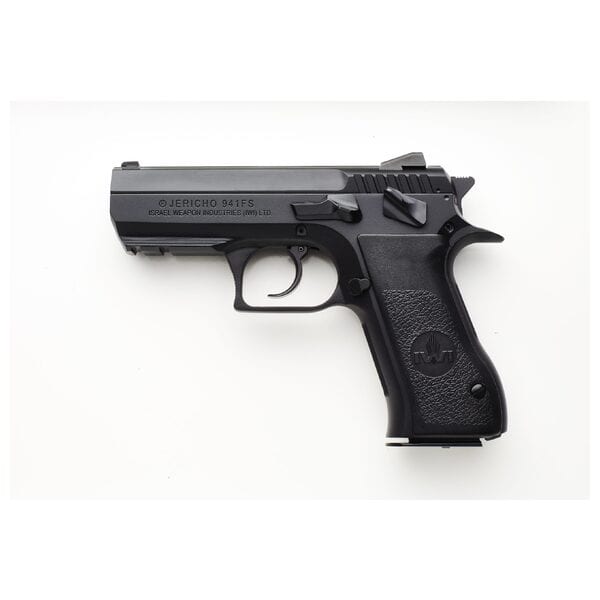 IWI Jericho 941 FS9 Mid-Size
Proven Design Meets Unrivalled Craftsmanship
In the annals of American shooting heritage, the IWI 941 FS9 Mid-Size Steel Frame holds a prominent place. It's part of the esteemed Jericho 941 series, first introduced in the US in 1990 and embraced by American shooters over the past quarter-century.
The IWI 941 FS9 is designed around the CZ-75's respected short recoil system. This foundation has been fused with IWI's stringent standards for reliable performance, accuracy, and quality construction, resulting in a handgun demonstrating proven design and function.
This model features a frame-mounted safety, facilitating "condition one" cocked and locked carry with a single or hammer-down double action function. This versatility means shooters can adapt the use of the firearm to their particular needs or preferences. Additional features include an integral Picatinny-style rail for mounting accessories, adjustable dovetailed sights for improved target acquisition, and a firing pin block for additional safety.
To further augment the performance of the IWI 941 FS9 Mid-Size Steel Frame, GunfightersINC offers a range of custom-designed holsters:
GunfightersINC is committed to providing holsters that are meticulously tailored to fit the specific requirements of the IWI 941 FS9 Mid-Size Steel Frame. These holsters demonstrate the same commitment to quality, functionality, and durability, complementing this impressive firearm perfectly.