IWI Jericho 941 F9 Full-Size Holsters
Showing 4 results
IWI Jericho 941 F9 Full-Size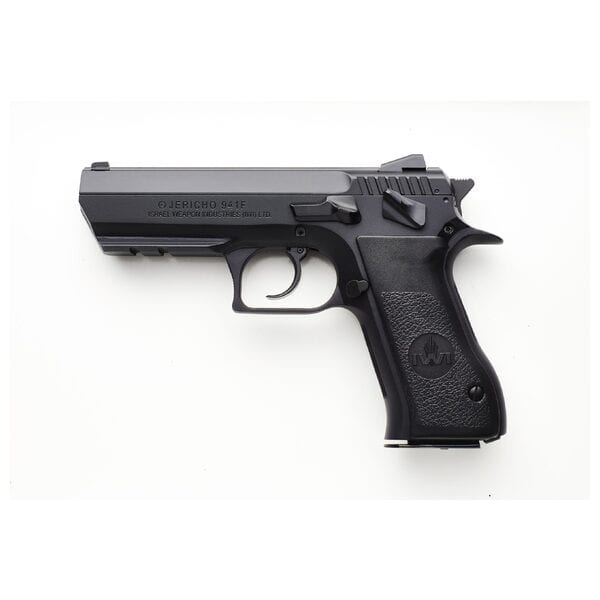 IWI Jericho 941 F9 Full-Size
Unmatched Precision and Dependability
The IWI 941 F9 Full-Size, a widely acknowledged Jericho 941 series member, combines IWI's exceptionally high standards for reliable performance, accuracy, and quality construction. First introduced in the US in 1990, it has gained widespread acceptance among American shooters over the last three decades.
Built on the revered CZ-75 short recoil system, the Jericho 941 series manifests tried and tested design and function, further enhanced by IWI's stringent standards. The IWI 941 F9 Full-Size features a frame-mounted safety that allows "condition one" cocked and locked carry with a single action function or hammer down double action function. This offers shooters flexibility depending on their preferences or tactical requirements.
Further enhancing its versatility are additional features such as an integral Picatinny style rail for mounting accessories, adjustable dovetailed sights for accurate aiming, and a firing pin block for enhanced safety. These features make the IWI 941 F9 Full-Size a reliable companion, whether at the range or in tactical scenarios.
To complement the IWI 941 F9 Full-Size, GunfightersINC offers an assortment of holsters tailored to secure and enhance the usage of this firearm:
Each GunfightersINC holster is meticulously crafted to meet the specific requirements of the IWI 941 F9 Full-Size. With a commitment to quality, functionality, and durability, these holsters provide a fitting companion to this remarkable firearm.