Glock 40 MOS Holsters
Showing 5 results
Glock 40 MOS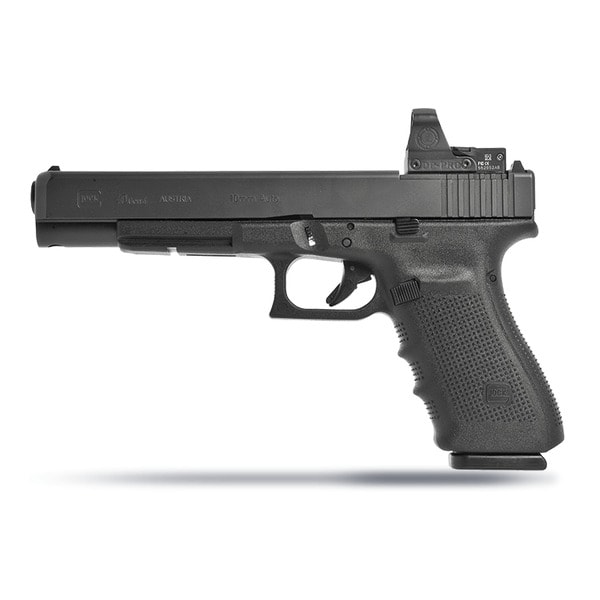 Glock 40 MOS
Unrivaled Power and Precision in a 10mm Auto Package
Discover the outstanding performance and capabilities of the Glock 40 MOS, a powerful 10mm Auto handgun that combines a long slide and barrel for improved velocity with a high magazine capacity. This Gen4 model, designed with the MOS (Modular Optic System) configuration, allows for easy mounting of popular optic sights without costly custom machining of the slide.
Gen4 Design and MOS Configuration
The Glock 40 MOS features the ergonomic Gen4 frame, complete with a Multiple Backstrap System that allows for a customizable grip to fit any hand size. The enlarged reversible magazine catch and the dual recoil spring assembly significantly increase the pistol's longevity, while the rough-textured frame ensures a secure grip.
Equipped with the MOS configuration, the Glock 40 MOS offers shooters the flexibility to mount their choice of red dot sights quickly and easily. The versatile mounting platform accommodates a range of popular optics, enhancing accuracy and target acquisition.
Powerful 10mm Auto Performance
Chambered in the potent 10mm Auto, the Glock 40 MOS delivers impressive stopping power, making it an ideal choice for hunting, personal defense, and outdoor enthusiasts. The long slide and barrel provide increased velocity and improved accuracy, while the high-capacity magazine ensures you have ample rounds at your disposal.
GunfightersINC Holsters for Glock 40 MOS
GunfightersINC offers an array of top-quality holsters designed specifically for the Glock 40 MOS, including:
Kenai Chest Holster
Ronin OWB Concealment Holster
Spectre Shoulder Holster
Light Bearing Spectre Shoulder Holster
These holsters offer security, accessibility, and style, ensuring your Glock 40 MOS is always ready for action.
Choose the Glock 40 MOS for its unrivaled power, precision, and adaptability. Enhance your experience with a GunfightersINC holster, crafted to perfectly fit your Glock 40 MOS and provide the ultimate in comfort and accessibility.