FNH Five-seveN Holsters
Showing 5 results
FNH Five-seveN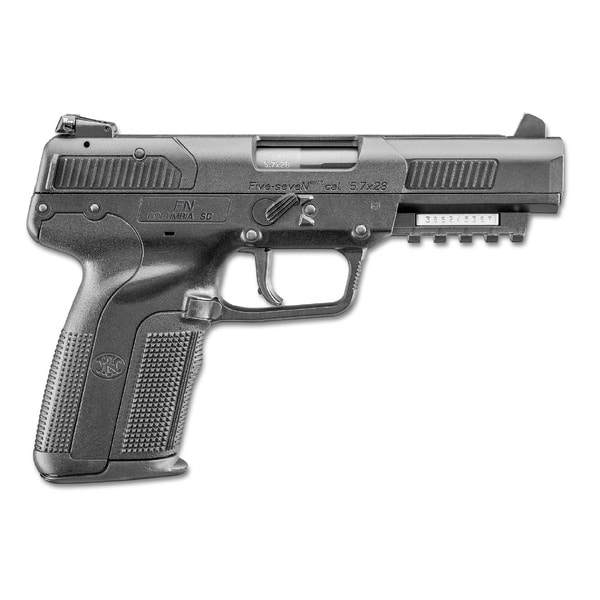 FNH Five-seveN
Innovative Design and High-Performance
The FNH Five-seveN is a semi-automatic pistol that combines innovative design with high-performance features, making it a popular choice for law enforcement, military, and civilian use. With its unique 5.7x28mm cartridge, lightweight construction, and exceptional accuracy, the Five-seveN offers a cutting-edge solution for self-defense, duty carry, and recreational shooting.
Unparalleled Performance and Accuracy
The Five-seveN features a 4.8-inch barrel, providing exceptional accuracy and precision for target shooting and self-defense. Its single-action-only (SAO) trigger system ensures a smooth and consistent trigger pull, providing confidence in every shot. The pistol is equipped with adjustable sights, offering quick target acquisition and adaptability to various shooting situations.
Lightweight and Durable Construction
Built to withstand the rigors of daily use and harsh conditions, the FNH Five-seveN features a durable, lightweight polymer frame and a stainless steel slide with a durable finish, providing exceptional corrosion resistance and longevity. The pistol's robust design ensures consistent performance and reliability, even under challenging conditions.
Innovative Ammunition and Ergonomics
The Five-seveN is designed around the unique 5.7x28mm cartridge, which offers impressive ballistics and low recoil, making it ideal for accurate, rapid-fire shooting. The pistol's ergonomic grip and intuitive controls make it comfortable to hold and easy to operate, ensuring maximum control and stability during shooting sessions.
GunfightersINC Holster Solutions for the FNH Five-seveN
To complement the Five-seveN's outstanding performance and design, GunfightersINC offers a range of holsters specifically designed for the FNH Five-seveN, including the Kenai Chest Holster, Ronin OWB Concealment Holster, The Baba Yaga Ronin, and Spectre Shoulder Holster. These holsters ensure a secure and comfortable fit, providing an exceptional carrying solution for the discerning Five-seveN owner. With GunfightersINC's commitment to quality and innovation, these holsters deliver the perfect combination of security, accessibility, and style.
Choose the FNH Five-seveN for its innovative design, exceptional performance, and unmatched reliability. Equip it with a GunfightersINC Kenai Chest Holster, Ronin OWB Concealment Holster, The Baba Yaga Ronin, or Spectre Shoulder Holster for the ultimate carrying experience.