Wilson Combat X-Tac 1911 Commander Holsters
Showing 3 results
Wilson Combat X-Tac 1911 Commander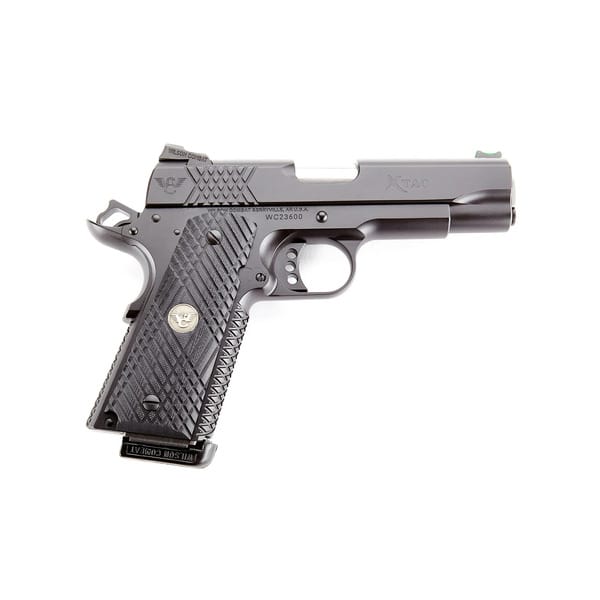 Wilson Combat X-Tac 1911 Commander
Precision Crafted for Superior Performance
The Wilson Combat X-Tac 1911 Commander is a testament to Wilson Combat's commitment to exceptional craftsmanship, merging the traditional 1911 design with modern tactical enhancements. This pistol is an excellent choice for those who appreciate the balance and handling of a full-size grip paired with a more compact 4.25″ barrel.
Key Features of the Wilson Combat X-Tac 1911 Commander:
Robust Construction: Every component is 100% Bullet Proof® machined, ensuring the X-Tac Commander is reliable and durable for everyday carry.
Enhanced X-TAC Grip Texture: The X-TAC pattern on the front strap and slide is bi-directional, offering superior grip and durability in even the most severe conditions. This design excels in various environmental conditions, providing a secure grip whether your hands are dry, wet, gloved, or bare.
Wilson Combat® 1911 Battlesight: With its U-Notch design, the high-profile rear sight is optimal for low-light and dynamic shooting scenarios. This sight enhances the sight picture, contributing to better target acquisition.
Customizable Features: The X-Tac Commander can be tailored to your preferences with options for sights, finishes, and even an optional magwell. This level of customization ensures that your pistol meets your tactical needs and aligns with your personal style.
Caliber Options and Barrel Length: Available in .45 ACP and 9mm, this pistol caters to a range of shooting preferences. The 4.25″ barrel provides a balanced combination of compactness and ballistic capability.
Compatible GunfightersINC Holsters for the X-Tac 1911 Commander:
Kenai Chest Holster: Ideal for outdoor adventures, this holster ensures your X-Tac Commander is always accessible, secure, and comfortable.
Ronin OWB Concealment Holster: This OWB holster provides comfort and stealth, making it perfect for concealed carry without sacrificing quick access.
The Baba Yaga Ronin: Inspired by the legendary John Wick, this holster blends style with practicality, perfectly complementing the X-Tac Commander's aesthetics and functionality.
The Wilson Combat X-Tac 1911 Commander redefines the classic 1911 with its advanced features, unmatched reliability, and superb accuracy. Paired with a GunfightersINC holster, this pistol becomes an indispensable tool for defense, tactical applications, or simply for those who demand the best in their everyday carry.