SIG Sauer P230 Holsters
Showing 2 results
SIG Sauer P230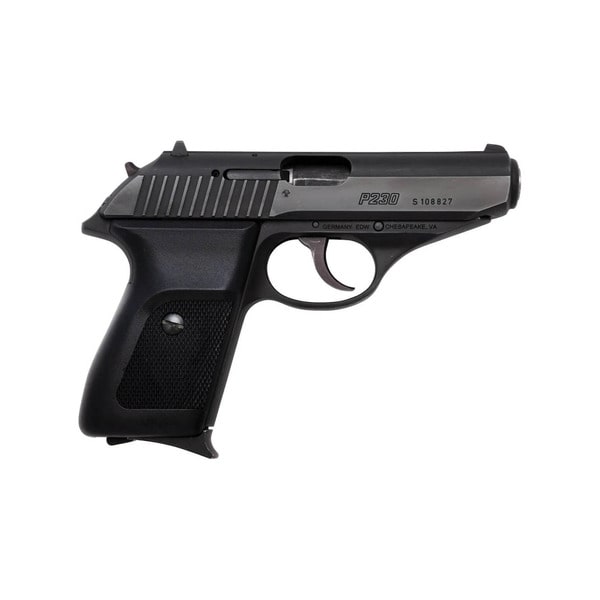 SIG Sauer P230
SIG Sauer P230 – Compact Elegance and Reliability
The SIG Sauer P230 is a classic semi-automatic pistol designed for concealed carry, personal defense, and backup use. This compact and elegant firearm is known for its outstanding reliability, accuracy, and ease of use. With a slim profile and lightweight design, the P230 offers a perfect balance of form and function for those who demand both performance and portability.
Uncompromising Performance and Accuracy
The P230 features a barrel length of 3.6 inches, delivering impressive accuracy for a compact pistol. Its traditional double-action/single-action (DA/SA) trigger system ensures a smooth and consistent trigger pull, providing confidence in every shot. The pistol is equipped with fixed sights, offering quick target acquisition and adaptability to various shooting situations.
Durability and Dependability
Constructed to withstand the rigors of daily carry and use, the SIG Sauer P230 features a durable, hard-coat anodized aluminum frame and a stainless steel slide, providing exceptional corrosion resistance and longevity. The pistol's robust design ensures consistent performance and reliability, even under challenging conditions.
Ergonomics and Comfort
The P230 is designed with the user in mind, offering an ergonomic grip and intuitive controls that make it comfortable to hold and easy to operate. The pistol's slim profile and compact dimensions allow for easy concealment and comfortable carry, making it an ideal choice for self-defense and backup use.
GunfightersINC Spectre Shoulder Holster for the SIG Sauer P230
To complement the P230's outstanding performance and design, GunfightersINC offers the Spectre Shoulder Holster and the Light Bearing Spectre Shoulder Holster specifically designed for the SIG Sauer P230. These holsters ensure a secure and comfortable fit, providing an exceptional carrying solution for the discerning P230 owner. With GunfightersINC's commitment to quality and innovation, the Spectre Shoulder Holster and Light Bearing Spectre Shoulder Holster offer unparalleled security, accessibility, and style.
Choose the SIG Sauer P230 for its elegance, reliability, and performance. Equip it with a GunfightersINC Spectre Shoulder Holster or Light Bearing Spectre Shoulder Holster for the ultimate carrying experience.