H&K VP9 Match Holsters
Showing 3 results
H&K VP9 Match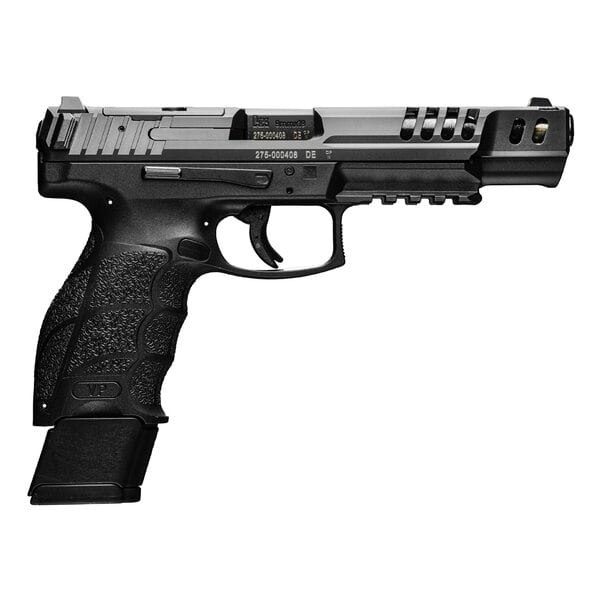 H&K VP9 Match
Excellence in Competitive Shooting
The H&K VP9 Match is a game-changer when defining excellence in competitive shooting. Crafted with precision, it's designed for those seeking to elevate their performance, whether in formal shooting competitions or simply gaining an edge at the local shooting range. Indeed, the VP9 Match isn't just another pistol—it's your partner in outclassing the competition.
Delving deeper, the VP9 Match isn't just about the renowned ergonomics or the exceptional trigger feel that made its predecessors best-sellers. It's the epitome of enhancement.
Here's what sets it apart:
Precision Engineering: The unique O-ring bushing on the 5.5-inch barrel ensures an impeccable lockup, enhancing accuracy and shooting consistency.
Optics Ready: The meticulously crafted optics cut is compatible with most of the leading red-dot pistol sights. Five different mounting plates are available separately, ensuring your sight fits perfectly.
Action and Capacity: A smooth Double Action mechanism coupled with four 20-round magazines ensures you're always ready.
Customizable Grip: It comes with 3 interchangeable backstraps and 6 lateral plates. Tailor the grip to your preference, ensuring optimal handling and control.
GunfightersINC Holster Selection for the H&K VP9 Match
For the H&K VP9 Match, only the best holster solutions will do. GunfightersINC offers a tailored range that enhances the VP9 Match experience:
Kenai Chest Holster: Ideal for outdoor enthusiasts, this holster guarantees quick access without compromising security, ensuring your VP9 Match is always within reach, regardless of terrain.
Ronin OWB Concealment Holster: Designed with discretion in mind, the Ronin OWB holster seamlessly combines elegance with functionality for daily carry.
The Baba Yaga Ronin: A unique take on the Ronin, the Baba Yaga adds flair, merging contemporary design nuances with time-honored craftsmanship for those who desire a distinctive carry solution.
Armed with the H&K VP9 Match and GunfightersINC's unmatched holster craftsmanship, you're well-equipped for any competitive scenario.