SIG Sauer 1911 w/ Streamlight TLR-1 Holsters
Showing 2 results
SIG Sauer 1911 w/ Streamlight TLR-1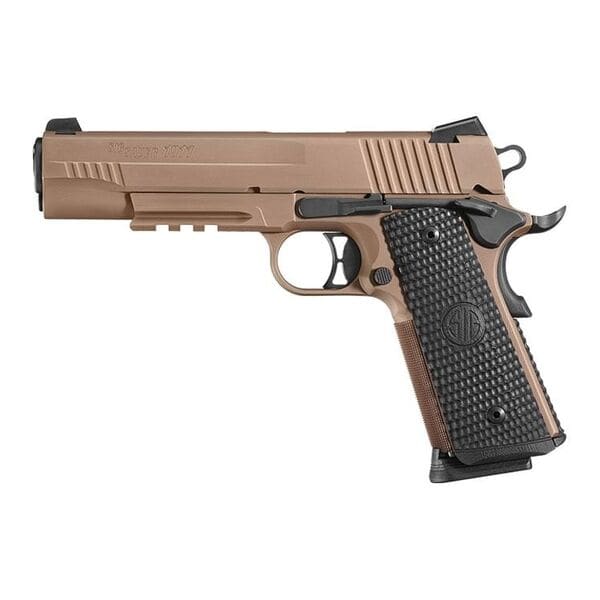 SIG Sauer 1911 w/ Streamlight TLR-1
Classic Design Meets Modern Illumination
The SIG Sauer 1911 equipped with the Streamlight TLR-1 weapons light combines the timeless design of the 1911 pistol with modern illumination technology. This semi-automatic pistol offers excellent performance and precision, making it ideal for self-defense, competition, and everyday use. The addition of the Streamlight TLR-1 weapons light enhances visibility and target identification in low-light situations.
Superior Performance and Precision
Featuring a 5-inch barrel, the SIG Sauer 1911 delivers exceptional accuracy and precision for various shooting applications. Its single-action-only (SAO) trigger system provides a crisp and clean trigger pull, promoting improved control and shot placement. The pistol comes equipped with adjustable sights for quick target acquisition and adaptability in different shooting scenarios.
Rugged Construction and Enhanced Ergonomics
Built to endure professional use and competition, the SIG Sauer 1911 boasts a durable stainless steel frame and slide with a robust finish for increased corrosion resistance and longevity. The ergonomic grip and intuitive controls make it comfortable to hold and easy to operate, ensuring optimal control and stability during shooting sessions.
Advanced Illumination with Streamlight TLR-1
The Streamlight TLR-1 weapons light is designed to augment the capabilities of the SIG Sauer 1911, providing 300 lumens of bright, focused LED illumination. This high-performance light features a concentrated beam pattern for optimal peripheral illumination, helping to improve situational awareness in low-light conditions. The TLR-1 easily attaches to the 1911's accessory rail, allowing for quick and secure installation and removal.
GunfightersINC Holster Options for the SIG Sauer 1911 with Streamlight TLR-1
To complement the outstanding performance and design of the SIG Sauer 1911 with Streamlight TLR-1, GunfightersINC offers a range of holsters specifically tailored for this combination, including the Sentinel OWB Holster and Light Bearing Kenai Chest Holster. These holsters ensure a secure and comfortable fit, providing excellent carrying solutions for the discerning SIG Sauer 1911 owner. With GunfightersINC's commitment to quality and innovation, these holsters deliver the perfect blend of security, accessibility, and style.
Choose the SIG Sauer 1911 with Streamlight TLR-1 for its combination of classic design, exceptional performance, and advanced illumination technology. Equip it with a GunfightersINC Sentinel OWB Holster or Light Bearing Kenai Chest Holster for the ultimate carrying experience.
Streamlight TLR-1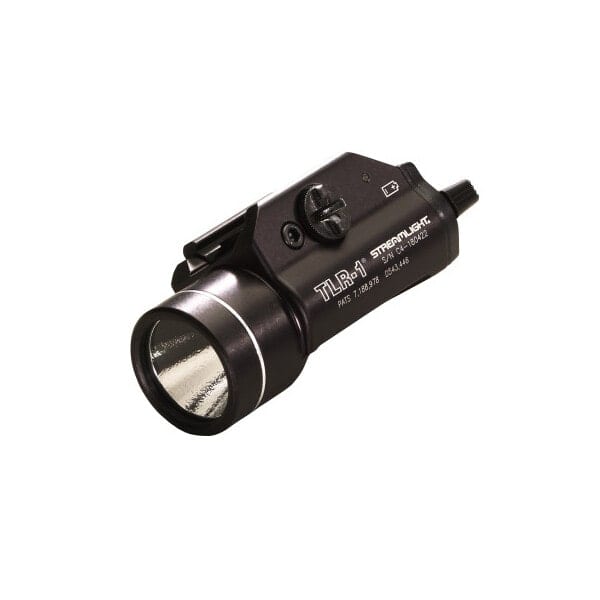 Streamlight TLR-1
The Streamlight TLR-1 gun light is an extremely bright and durable tactical light that can easily be mounted onto almost any firearm. With a brightness of 300 lumens and a runtime of 2.5 hours, it has a peak beam intensity of 12,000 candelas. Two 3-volt CR123A lithium batteries power it with a 10-year storage life. The rail grip clamp system securely attaches and detaches without needing tools and keeps your hands safely away from the muzzle. The TLR-1 includes keys compatible with GLOCK-style rails, MIL-STD-1913 Picatinny rails, Beretta 90two, Smith & Wesson SW99, and Smith & Wesson TSW. The light is constructed with black anodized machined aircraft aluminum and has an ambidextrous momentary/constant operation. When remounted, it offers highly accurate sight repeatability and fits most existing light-bearing holsters. The TLR-1 weighs 4.18 oz and has an IPX7 rating, making it waterproof up to 1 meter for 30 minutes.
GunfightersINC makes holsters for light-bearing pistols specifically designed to fit the Streamlight TLR-1 weapon light.