FNH 510 Tactical - SureFire X300U-A Holsters
Showing 2 results
FNH 510 Tactical - SureFire X300U-A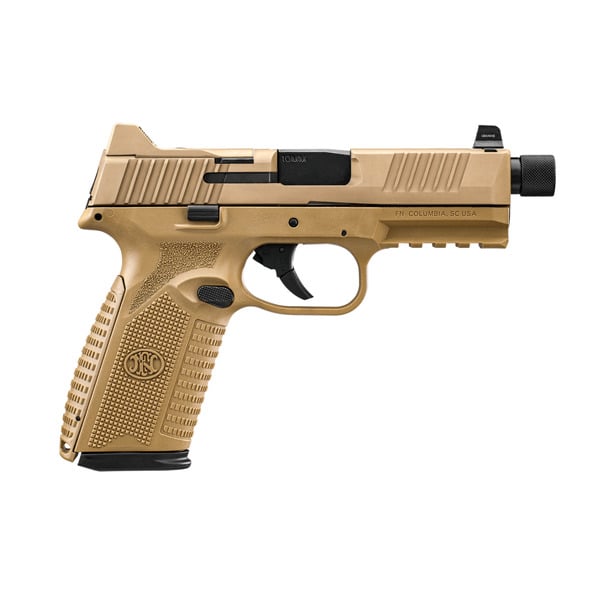 FNH 510 Tactical - SureFire X300U-A
Unmatched Power and Illumination
Experience the exceptional combination of the FNH 510 Tactical and the SureFire X300U-A weapons light for superior performance in various environments and lighting conditions. Designed for outdoor enthusiasts, tactical professionals, and self-defense advocates, this powerful duo offers a 22+1 round capacity of 10mm ammunition, making it capable of stopping a bear in its tracks.
High-Quality Firearm Performance
The FNH 510 Tactical features a cold hammer-forged, stainless steel barrel that ensures enhanced durability and accuracy. Its polymer frame comes with aggressive checkering and interchangeable backstraps, offering a comfortable and secure grip for users with varying hand sizes. The ambidextrous controls, including the slide stop lever and magazine release, accommodate both left and right-handed shooters with ease.
High-Profile Sights and Accessory Rail
The FNH 510 Tactical is equipped with high-profile combat sights that enable quick target acquisition in low-light situations. The pistol also features a MIL-STD 1913 accessory rail for easy attachment of the SureFire X300U-A weapons light and other tactical accessories.
Powerful Illumination with SureFire X300U-A
The SureFire X300U-A weapons light delivers an impressive 1000 lumens of LED illumination, providing superior lighting in any environment. Its compact and lightweight design ensures minimal impact on firearm handling. Constructed with a robust, aerospace aluminum body, the X300U-A is built for durability and can withstand harsh conditions. The Rail-Lock® system enables quick and secure attachment and detachment from the 510 Tactical's accessory rail.
GunfightersINC Holster for FNH 510 Tactical with SureFire X300U-A
GunfightersINC offers the Light Bearing Kenai Chest Holster specifically designed for the FNH 510 Tactical and SureFire X300U-A combination. This rugged and adaptable holster guarantees a secure fit and is perfect for outdoor adventures and tactical professionals. GunfightersINC's commitment to quality and innovation ensures a holster that provides security, accessibility, and style.
Choose the FNH 510 Tactical with SureFire X300U-A for its outstanding performance, rugged construction, and powerful illumination capabilities. Complete your setup with a GunfightersINC Light Bearing Kenai Chest Holster, the ultimate carrying solution tailored to this remarkable combination.
SureFire X300U-A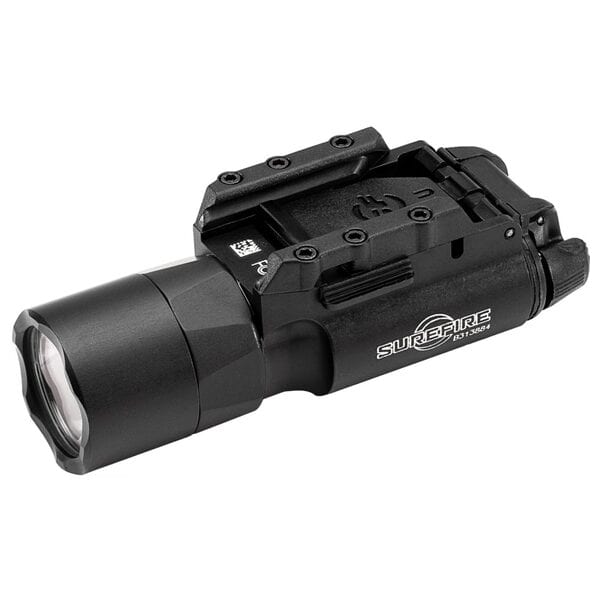 SureFire X300U-A
The SureFire X300U-A is a high-powered weapon light that is designed for use on handguns and long guns. It features a powerful, ultra-bright LED that delivers a maximum output of 600 lumens. This makes it suitable for use in low-light and no-light conditions, providing a bright, white light that can reach up to 100 meters. The X300U-A is made of aerospace-grade aluminum and has a hard-anodized, black finish, making it durable and resistant to impact. It also features a user-programmable strobe enable/disable and a TIR lens that focuses the beam for longer reach and peripheral illumination. The X300U-A can be quickly and easily mounted to a handgun or long gun using the included thumbscrew clamp and can be powered by either two 123A batteries or one rechargeable 18650 battery. The switch is ambidextrous and easy to use, making it a great option for both left and right-handed shooters. The main difference between the X300U-A and the X300U-B is that the latter has a universal and rail-specific attachment capability. GunfightersINC makes holsters for light-bearing pistols that are specifically designed to fit the SureFire X300U-A weapon light