Canik METE SFx Holsters
Showing 3 results
Canik METE SFx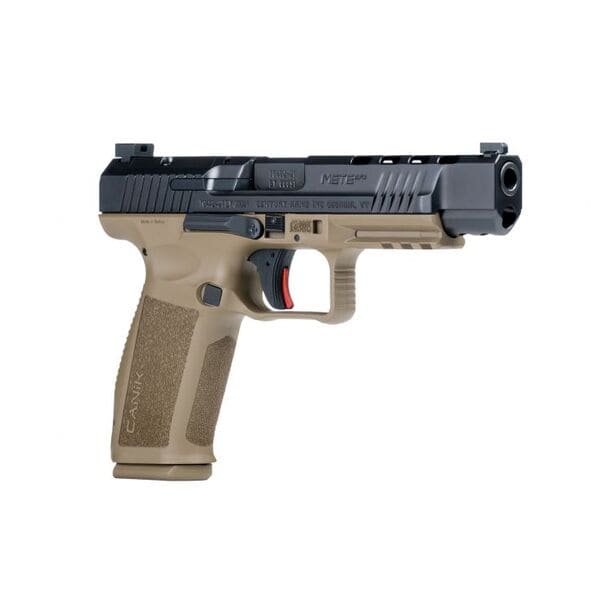 Canik METE SFx
The Canik METE SFx pistol is a high-performance firearm for competitive shooting and self-defense. This striker-fired handgun is chambered in 9mm and features several advanced features that set it apart from other pistols on the market.
One of the most notable features of the Canik METE SFx is it's easy in/easy out push pins and modular disassembly system. This allows for quick and easy maintenance and cleaning of the firearm. Additionally, the ergonomically redesigned beavertail and integrated flared mag-well enhance the shooter's grip and improve reload speed and accuracy.
The Canik METE SFx is also equipped with an angled rear sight edge for emergency one-hand operation, which can be critical in self-defense. The low-profile ambidextrous slide stop release allows for more effortless engagement during competition, making it easier for the shooter to stay on target.
The aggressive front and rear slide serrations provide positive-traction handling, giving the shooter maximum control over the firearm. The match-grade 5.20″ barrel offers excellent accuracy and consistency, making it a reliable and robust choice for competitive shooting.
To complement the Canik METE SFx, GunfightersINC offers two holsters explicitly designed for this firearm. The Kenai Chest Holster is a versatile and comfortable holster that allows easy gun access while hunting or hiking. The Spectre Shoulder Holster is a highly customizable holster that can be configured to suit the shooter's needs, making it an ideal choice for law enforcement or military applications.
The Canik METE SFx pistol is an exceptional firearm designed for competitive shooting and self-defense. Its advanced features, including easy in/easy out push pins, ergonomically redesigned beavertail, and aggressive slide serrations, make it a top choice for shooters of all skill levels. And with the GunfightersINC Kenai Chest Holster and Spectre Shoulder Holster, you can confidently and efficiently carry the Canik METE SFx.