Taurus Raging Hunter 500 S&W Magnum Holsters
Showing 1 result
Taurus Raging Hunter 500 S&W Magnum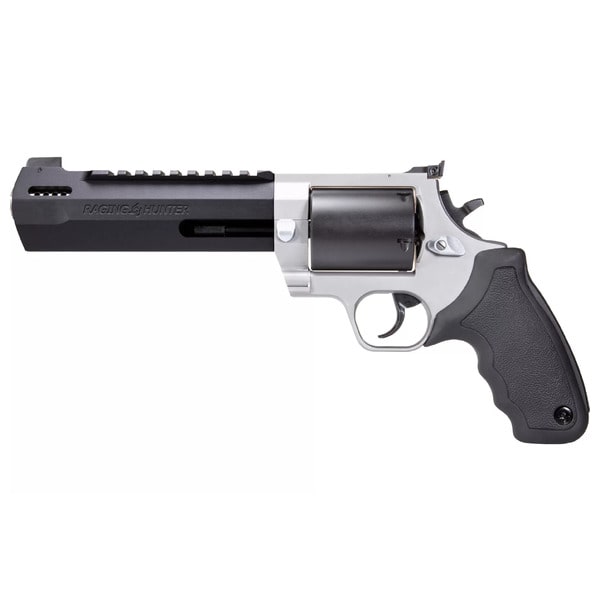 Taurus Raging Hunter 500 S&W Magnum
The Apex of Power in Revolvers
The Taurus Raging Hunter, esteemed in the realm of revolvers, extends its legendary lineage by introducing the most commanding factory revolver round available – the 500 Magnum. The clamor of hunting aficionados for the unmatched power of the 500 Magnum, merged with the trusted features of the Raging Hunter, has been answered. Taurus underscores its commitment to unparalleled performance and precision with this potent pistol.
Built for rugged reliability, the 500 Magnum Raging Hunter is engineered to deliver an impressive 5-round capacity. Whether you're eyeing it as a primary weapon for those formidable four-legged foes or considering it your backup during treacherous game hunts, this pistol emerges as an indispensable companion.
Custom barrel ports, a testament to Taurus's dedication to innovation, are integrated to alleviate the recoil inherent in the 500 Magnum. With available barrel lengths of 5, 6.75, and 8 inches, enthusiasts can select their preferred dimension for optimal handling and accuracy.
Specifications:
BARREL LENGTH: 6.75 In.
OVERALL LENGTH: 13.1 In.
CALIBER: 500 S&W MAG
CAPACITY: 5 Rounds
GunfightersINC Holster Solution for the Taurus Raging Hunter 500 Magnum
For the discerning owner of a Taurus Raging Hunter 500 Magnum, GunfightersINC offers an unparalleled holster solution tailored for difficult conditions:
Kenai Chest Holster: This is more than just a holster – it's a commitment to reliability. Designed to prioritize accessibility, the Kenai Chest Holster ensures your Taurus Raging Hunter 500 Magnum is always within immediate reach. Specially curated for the outdoors, it promises negligible interference, even during intense physical activity. The prime positioning balances weight distribution, offering a swift draw and uncompromised comfort.
Opt for GunfightersINC, and pair your Taurus Raging Hunter 500 Magnum with a holster crafted to mirror its excellence.