Taurus Raging Hunter 460 S&W Magnum Holsters
Showing 1 result
Taurus Raging Hunter 460 S&W Magnum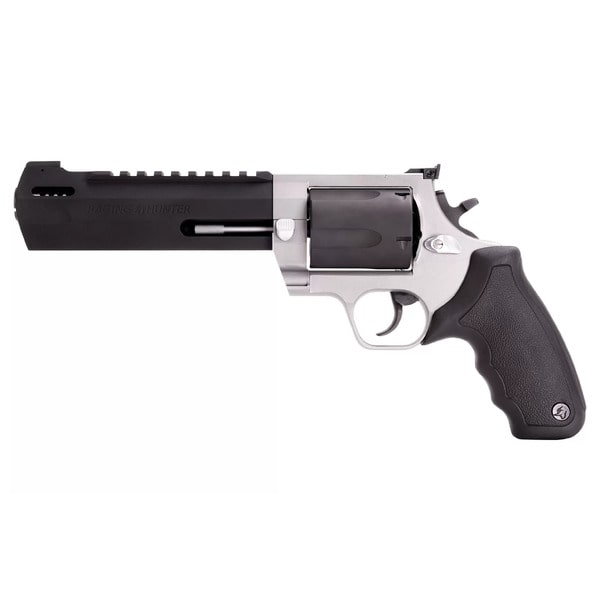 Taurus Raging Hunter 460 S&W Magnum
A Testament to Precision and Power
Honored as the 2019 American Hunter Handgun of the Year with the Golden Bullseye Award, the Taurus Raging Hunter is a beacon of next-generation design, seamlessly merging unparalleled innovation with enduring durability. This remarkable big-bore revolver epitomizes the zenith of craftsmanship in the firearm industry.
For those seeking versatility in their hunting escapades, the Taurus Raging Hunter emerges as an unrivaled choice for short to medium-range scenarios. Chambered in the formidable 460 S&W Magnum, this five-shot pistol perfectly balances power and precision. Whether your preference leans toward the sleek Matte Black or the sophisticated Two-tone finish, the Taurus Raging Hunter does not compromise on aesthetics.
The pistol's groundbreaking angular barrel design is a masterstroke of engineering, focusing on reducing the overall weight without sacrificing robustness. Complemented by the factory-tuned porting and a specially designed gas expansion chamber, the muzzle lift is substantially minimized, empowering the shooter with rapid target acquisition capabilities. Augmenting this is the cushioned insert grip, meticulously crafted to offer a comfortable and controllable shooting experience.
Specifications:
BARREL LENGTH: 6.75 In.
OVERALL LENGTH: 12.50 In.
CALIBER: 460 S&W Magnum
CAPACITY: 5 Rounds
GunfightersINC Holster Solution for the Taurus Raging Hunter 460 S&W Magnum
For those who prioritize optimal accessibility and security for their Taurus Raging Hunter 460 S&W Magnum, GunfightersINC presents an unmatched holster solution:
Kenai Chest Holster: Beyond being a mere holster, the Kenai Chest Holster embodies the spirit of adaptability. Tailored for the demanding terrains of the great outdoors, it guarantees your pistol remains within arm's reach always. Its design emphasizes even weight distribution, facilitating rapid draws while ensuring comfort. Trust the Kenai Chest Holster to be the perfect partner for your Taurus Raging Hunter 460 S&W Magnum during every hunting expedition.
Choose GunfightersINC and experience a holstering solution that genuinely complements the exceptional nature of your Taurus Raging Hunter 460 S&W Magnum.