FNH 545 Tactical w/ Streamlight TLR-1 Holsters
Showing 2 results
FNH 545 Tactical w/ Streamlight TLR-1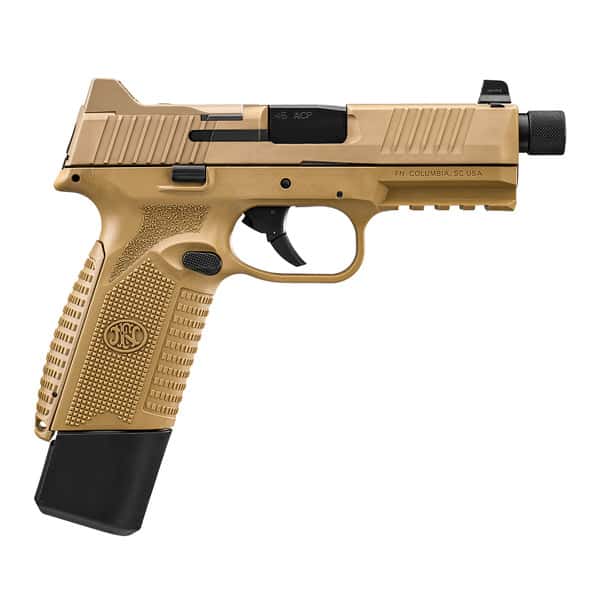 FNH 545 Tactical w/ Streamlight TLR-1
Introducing the FNH 545 Tactical equipped with the Streamlight TLR-1 weapons light, a powerful combination that enhances your tactical capabilities. The FNH 545 Tactical offers exceptional performance with its 18+1 round capacity in .45 ACP, setting a new standard in firepower. Paired with the Streamlight TLR-1 weapons light, you gain superior illumination and target acquisition in low-light situations, ensuring maximum effectiveness in any scenario.
GunfightersINC provides custom holsters designed specifically for the FNH 545 Tactical with Streamlight TLR-1 compatibility. Explore our range of holsters that perfectly accommodate this powerful combination:
Light Bearing Kenai Chest Holster: The Light Bearing Kenai Chest Holster is an excellent choice for those seeking a secure and easily accessible carry solution. Designed for chest carry, this holster keeps your FNH 545 Tactical with Streamlight TLR-1 within reach, providing quick access and optimal comfort.
Sentinel OWB Holster: The Sentinel OWB Holster offers a reliable and comfortable outside-the-waistband (OWB) carry option for your FNH 545 Tactical with the Streamlight TLR-1. This holster is engineered with precision and ensures a secure fit, easy draw, and exceptional retention.
Experience the perfect FNH 545 Tactical and Streamlight TLR-1 combination with GunfightersINC's custom holsters. Our holsters are meticulously designed to provide the utmost functionality, comfort, and durability, ensuring that your firearm and weapon light is securely and conveniently carried. Choose GunfightersINC for reliable holsters that complement your FNH 545 Tactical power and performance with Streamlight TLR-1.
Streamlight TLR-1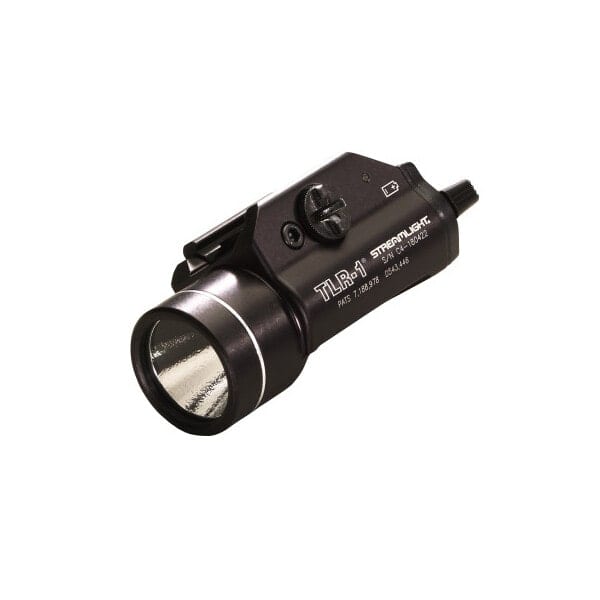 Streamlight TLR-1
The Streamlight TLR-1 gun light is an extremely bright and durable tactical light that can easily be mounted onto almost any firearm. With a brightness of 300 lumens and a runtime of 2.5 hours, it has a peak beam intensity of 12,000 candelas. Two 3-volt CR123A lithium batteries power it with a 10-year storage life. The rail grip clamp system securely attaches and detaches without needing tools and keeps your hands safely away from the muzzle. The TLR-1 includes keys compatible with GLOCK-style rails, MIL-STD-1913 Picatinny rails, Beretta 90two, Smith & Wesson SW99, and Smith & Wesson TSW. The light is constructed with black anodized machined aircraft aluminum and has an ambidextrous momentary/constant operation. When remounted, it offers highly accurate sight repeatability and fits most existing light-bearing holsters. The TLR-1 weighs 4.18 oz and has an IPX7 rating, making it waterproof up to 1 meter for 30 minutes.
GunfightersINC makes holsters for light-bearing pistols specifically designed to fit the Streamlight TLR-1 weapon light.